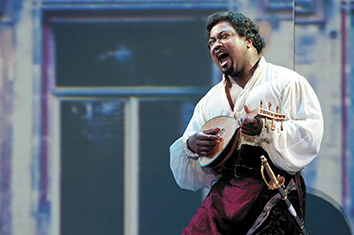 After less than two years at the helm, Kevin Patterson has stepped down at mid-season as general director of the struggling Indianapolis Opera and has quickly been replaced with a new leader.

Kevin Patterson
Hired in early 2015, Patterson has accepted a position with Patron Technology, a New York City-based company that provides box office, ticketing, and marketing support for arts, entertainment and sports organizations.
In an interview with IBJ on Wednesday afternoon, Patterson said that his tenure was meant from the beginning to last two years.
"When they came to me, I said, 'I'm willing to help you get back on your feet and rediscover your audience and built the next version of Indianapolis Opera. But after two years, I'm planning on doing other things,'" Patterson said.
"This isn't a thrown-up-my-hands-and-walked-away or they-wanted-to get-rid-of-me-because-they-don't-want-to-deal-with-me. This isn't one of those. This is a question of timing. When I moved back in 2014, I was already looking for opportunities outside of the opera industry," he said.

David Starkey
A seven-month search resulted in the hire of Patterson, who held similar positions with Austin Lyric Opera and Anchorage Opera. This time, the IO board of directors has piloted a speedier transition to new leadership.
It has hired David Craig Starkey, the founder, artistic and general director of Asheville Lyric Opera, to take over the role. Starkey's tenure began Dec. 6.
Patterson said that he and Starkey were enrolled together in a master's program at Indiana University and had stayed in touch over the years.
"When I told him [David] I was probably transitioning out, he expressed an interest in the job and I put him together with the board. If the board liked him, if he was really available, this would be the cleanest mid-season transition you could have. They had conversations and came to an agreement," Patterson said.
In addition, Robert Driver, general/artistic director of IO from 1981-91, will rejoin the team as artistic and new initiatives adviser. "They are really going to be a team, working closely together," Matthew Mindrum, president of the IO board, told IBJ.
"The last two years have been really important, a lot of progress has been made," Mindrum said. "We think the strategy and vision are right and we have new leadership to help us realize that."
Patterson joined IO while it was attempting to recover from financial challenges that led to the cancellation of the final production of 2013-14 and skipping the 2014-15 season entirely.
During Patterson's brief tenure, IO shifted focus to more intimate operas, staged primarily at the Schrott Center at Butler University. The 2016-17 season, which consists of three operas, included the world premiere in September of "Happy Birthday, Wanda June," based on the play by Indianapolis native Kurt Vonnegut Jr.
One casualty of the latest change may be "The Jewel Box," a postmodern piece that IO had planned to close the current season in March.
Discussions are under way to replace it with a more familiar work, Mindrum said.
Patterson said the company was on "pretty good" financial footing and didn't foresee any pressing financial issues. Nor did he think the company would radically change course with his departure.
"The trends are too good," he said. "Even though subscriptions aren't nearly what they were 10 years ago—no opera company's are—we saw a modest increase of 16 percent over last year. Trends are moving in the right direction."
"When I came in, there was a lot of talk that Indianapolis Opera can't do quality work, that the quality is suspect," he said. "I think we really put that to bed. Whether they liked the material or not, no one walked out saying there's not quality here."
Please enable JavaScript to view this content.