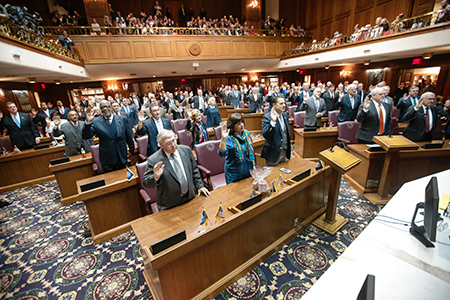 Eric Holcomb will start his term as governor with strong Republican majorities in the Indiana Legislature—an enviable position for any new governor hoping to make his mark on the state.
But as lawmakers are tasked with writing the next two-year budget, revenue constraints could put a damper on negotiations over funding new programs, existing agencies—and items from Holcomb's wish list.
Year-to-date revenue collections in the state's general fund were 1.6 percent, or $75.7 million, below state forecasts as of October, driven by lower-than-expected corporate income tax collections and low gas prices that have translated into lower sales tax collections.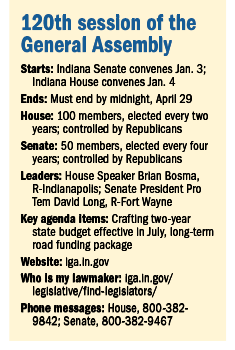 Legislative leaders have sounded alarm bells over the revenue figures—saying lawmakers will need to take a cautious approach to investing in new programs such as expanding state-funded preschool and raising teacher pay.
"We do have fiscal constraints in the coming session which are very real," said House Speaker Brian Bosma, R-Indianapolis. "We're not going to be flush with money here. Hopefully, we'll be in a position where we can invest further."
Meanwhile, the Legislature seems poised to debate and perhaps institute ideas to collect new revenue from drivers to pay for long-term transportation and infrastructure needs.
The revenue shortfall "is not an enormous number, but it's a little problematic," said state Sen. Luke Kenley, who is chairman of the Senate Appropriations Committee and a chief budget writer.
"We've got to find a way to overcome that and we're talking about all kinds of things, from pre-K programs to more [mental health] treatment programs to teacher pay to the road-funding issue," Kenley said. "That's why you're hearing a lot of caution."
Holcomb touted an economic plan on the campaign trail that suggested a continuance of Gov. Mike Pence's policies. He has said generally that he wants to slowly expand the state's preschool pilot program and invest in roads and bridges.
Kids were among those who rallied at the Statehouse Nov. 22 for a pre-K pilot program the General Assembly created in 2015. Advocates of state-funded preschool are urging lawmakers to expand the five-county program to include more children. (AP photo)
Kenley said it "would normally be the case" that lawmakers need to temper a new governor's expectations and campaign promises with budget-writing reality.
For instance, a newly elected Pence pushed hard during the 2013 legislative session for a 10 percent personal income tax cut. At the end of the day, he compromised with legislative leaders for a 5 percent tax cut to be phased in over four years.
But Holcomb—whose spokesman told IBJ he was unable to comment for this story—hasn't yet put out a specific legislative wish list.
"He's given us a little latitude and a little bit of a break in that regard," Kenley said.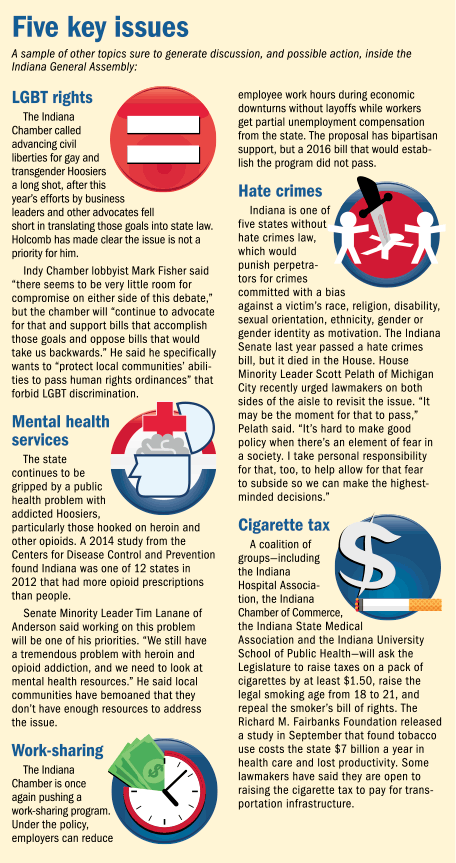 Working with a governor on his first budget will make for a different dynamic, Kenley said, than it would have been to work with Pence on his third (assuming he had stayed in the governor's race and been re-elected).
"That gives the Legislature a little more latitude to exercise some control over the situation," he said. "And because of Holcomb's approach to his campaign, where he didn't get too far out there on specific commitments, it appears he recognizes that that's the dynamic—or it was just a fortuitous occurrence."
Meanwhile, budget-writers and advocacy groups have their own ideas about spending priorities.
Kenley said he has had about 150 people come through his office to discuss their desires.
"I've yet to have the first one ask me for less money," Kenley said. "Everybody has expectations. It's a little bit difficult to dampen the expectations because it's not like 2007 or 2008, when it was pretty easy to tell everybody" that the state was experiencing revenue shortfalls.
Kenley said he anticipates "a big debate on education" funding. The school funding formula was also tweaked in 2015.
Senate President Pro Tem David Long, R-Fort Wayne, said lawmakers will have to "just wait and see according to the revenue forecast," which takes place later this month and will be the basis for budget negotiations.
"That's going to guide us on what we can and can't do," Long said. "We'll take education, as we always do, first and foremost. That's our number one issue, with a lot of others to be dealt with as well."
But Kenley said the state budget situation could end up disappointing passionate advocates for increasing preschool funding for poor children and paying teachers more.
"I don't think we're going to have the money to do both," he said.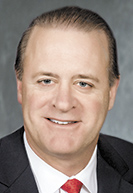 Long
Mark Fisher, a lobbyist for Indy Chamber, said his group and other advocates will be pushing the state for "responsible expansion" when it comes to preschool, but he recognizes "that one will be most determined by revenue projections."
Other lobbyists, including the Indiana Chamber of Commerce's Kevin Brinegar, are also framing their request for increased preschool funding as a desire to "work our way up within the confines of available state resources."
The December revenue forecast "will set the playing field for what can and can't be done" Brinegar told business leaders at the Chamber's annual legislative preview event in November.
Plans for increasing transportation and infrastructure funding are less likely to fall victim to revenue shortfalls because lawmakers are talking about instituting new revenue sources to pay for them, Fisher said.
Still, the Indy Chamber plans to ask for an increase in the state's mass transportation fund, which supports local transit agencies. Several years ago, the state changed the funding mechanism for that fund, which has caused it to flat-line.
Fisher said he hopes to make the case for a funding increase because there is "clearly high demand for transit services across the state."
"This is fairly typical for the Legislature to temper expectations on what will be doable," Fisher said. "A lot of this will come down to what future revenue projections look like and what the revenue realization is."•
Please enable JavaScript to view this content.