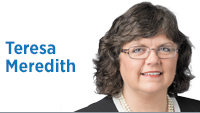 "How many of you have had a teacher at any level of your education who made you more excited to be alive, prouder to be alive, than you had previously believed possible? Hold up your hands, please."

Hoosier native and prolific author Kurt Vonnegut said those words. His passionate belief in public education and the educators under whom he learned shaped his life forever. What other profession elicits that kind of emotion, joy, remembrance and gratitude?

Educators are tasked with the greatest and most challenging profession—to inspire, lead, motivate, teach, nurture and so much more. If you ask any teacher why he or she teaches, you are likely to hear: "Because I want to make a difference."

That's what motivated me throughout college and drove me to teach the youngest kids who enter school—kindergartners. To shape their curious minds, to open their hearts to learning. Why do people become bus drivers, custodians, school nurses and cafeteria workers? Because they want to support the development of our kids—to provide a safe space, a healthy meal, a word of encouragement.

Educators have shaped who we all have become and who will shape our kids and grandkids for all time. Unfortunately, educators are feeling despondent and disrespected, and many are leaving the profession. The climate to teach and inspire has been replaced by high-stakes testing, tightening school budgets and stagnant wages, leaving our teachers uninspired and frustrated.

Hoosiers know we need the best educators to ensure a vibrant economic climate for our state and to ensure our kids have a secure financial future. If we're serious about every kid's future, let's get serious about doing what works.

■ Focus on what's best for kids. End unnecessary pass/fail tests like IREAD, which do not give teachers or parents any actionable information and are unduly costly.

■ Pay educators professional wages. Average beginning teacher salaries in Indiana hover around $34,000. Adjusting for inflation, and since 2003, Indiana had the second-worst decline in teacher salaries.

■ Suspend accountability consequences another year as the state transitions to new standards and assessments and students become better prepared.

■ Give educators a voice. Restore a state professional standards board to govern teacher training and licensure.

If the new administration and Legislature work together to make these four changes, that alone would markedly improve the climate in school buildings across the state. Shouldn't we all be working hard to ensure each educator has the resources, support, salary and benefits to stay in the job and recruit the next generation of caring and committed educators into the profession?

Our kids are certainly counting on it—and on us.•

__________

Meredith is president of the Indiana State Teachers Association and has taught for more than 20 years in Indiana schools. Send comments on this column to ibjedit@ibj.com.