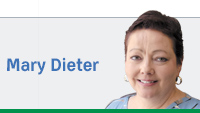 I am a lifelong Chicago Cubs fan. I know optimism.
Since the team caught my imagination in 1969, I annually joined legions who chanted, "Wait 'til next year." A new pitcher or a promising rookie or a wise manager always gave us hope. We always saw light at the end of the tunnel.
I wish I held out such hope for the future of our country, but I cannot muster it. In the days after the Nov. 8 election, people variously said things like, "We'll get through this" or, referring to Donald Trump, "Give him a chance."
After experiencing the election campaign, many of us were having none of it. And now Trump, having won election on the backs of people who can ill afford to carry him, is assembling a leadership team of moneyed misfits poised to usher in an oligarchy. It is clearer than ever that the Founders' ideals are truly the stuff of history.
We'll get through this? In what condition? What will become of Hispanics and women and gays and Muslims and the disabled and Jews and blacks and immigrants and the poor or anybody else for whom Trump sanctions hate or lesser status? Will we recognize America after this megalomaniac intent on enriching and aggrandizing himself has served a term? Will any of the progress we have made to guarantee life, liberty and the pursuit of happiness for all survive a Trump presidency?
Give him a chance? To do what? To appoint, as he promised, a Supreme Court that will uphold the right of rich people to buy elections and the right of legislatures to gerrymander and otherwise suppress voting, thus ensuring permanent Republican power and disenfranchisement of the rest of us? To appoint justices who will deny women the right to make their own decisions about reproduction?
Should we give him a chance to undermine every reasonable attempt to lessen gun violence? Eliminate restrictions intended to keep the air breathable, the land arable and the glaciers frozen? Cozy up to dictators? Eliminate the Affordable Care Act and condemn millions of Americans to go broke or die because they happen to get ill? Deny cancer screenings and other critical health care to the women who rely on Planned Parenthood? Reduce Medicaid benefits? Privatize Medicare and Social Security? Undermine freedom of the press? Create a registration program and internment camps for Muslims? Torture prisoners and launch a nuclear weapon?
Despondent over the election, I went looking for answers. I attended the Nov. 17 gathering in Zionsville of 1,000 self-styled "women for change" who, like me, were seeking ways to turn their dismay into something positive and, in the words of one of the organizers, Rabbi Sandy Eisenberg Sasso, "to find ways to protect freedoms we all cherish."
I left in despair. As motivated as these women were a week after the election, I wondered if they could sufficiently narrow their focus and harness their energy, as suffragists and civil rights activists did before them, in any meaningful way that stops Trump from doing irreparable damage to the country and its people. I questioned if their commitment could hold over four years of constant political defeat.
But more to the point, I recognized that we have no choice but to get through the next four years and we no longer can deny Trump the chance to do his will. He has been elected and there is no turning back. I see no light at the end of the tunnel.•
__________
Dieter, a writer and an editor, is the former Statehouse bureau chief for The Courier-Journal and press secretary for Gov. Frank O'Bannon. Send comments on this column to [email protected]
Please enable JavaScript to view this content.