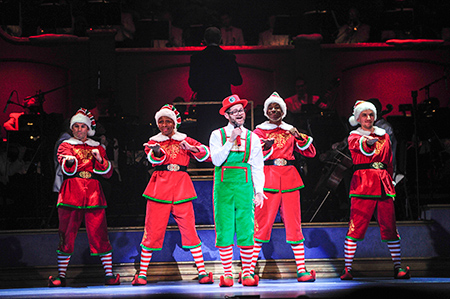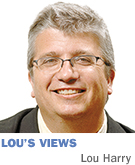 Only a pre-dusk Ebenezer Scrooge or scheming Grinch would take issue with the overall joy—and strong production quality—of the Indianapolis Symphony Orchestra's "Yuletide Celebration" (through Dec. 23).
Once again, the ISO musicians, Executive Director Ty A. Johnson and Music Director Jack Everly have packed the stage with talent, tossing together plenty of familiar Yuletide touchstones with enough fresh material to please the multi-generational Hilbert Circle Theatre crowds.
The most inspired addition to the program, "Santa's Choice," offered a smart, playful skit that embraced this year's host, local favorite Josh Kaufman, best known as a winner on TV's "The Voice." In it, a series of contestants compete in a "Voice"-like competition judged by Rudolph, Santa and Mrs. Claus. The diva-esque Northern Lights supplemented with well-timed sound effects and groan-inducing puns.
Kaufman, who just a few years ago was singing in a nearby sandwich shop, proved himself vocally throughout the evening, providing a more humble host than previous big-voiced talents Sandi Patty and Angela Brown. With minimal banter, he lent his substantial vocal chops to such standards as "The Christmas Song," "All I Want for Christmas is You" and others. The "Yuletide Celebration" line on his resume might not increase Kaufman's cool factor, but kudos to him for embracing the show for what it is, never condescending or trying to seem above it.
On my Christmas wish list for next year: I'd love to see more of the ISO players get a chance in the spotlight the way tuba player Tony Kniffen does in the "How the Grinch Stole Christmas" medley.
And here's hoping that, in 2017, Santa brings an overhaul to the pretty-but-aimless "Enchanted Toy Shoppe" piece—an over-long and cluttered sequence saved this time by the show-stopping hoofing of tap-dancing twins Sean and John Scott. And while I'm wishing, let's have these talents back again with even more stage time.
But let's count our blessings, which this year include a spirited Mrs. Claus (Claire Wilcher), those infectiously dancing Santas, the anonymous puppeteers giving flight to reindeer and sleigh, and, of course, the ISO players themselves.•
__________
This column appears weekly. Send information on upcoming arts and entertainment events to lharry@ibj.com.
Please enable JavaScript to view this content.