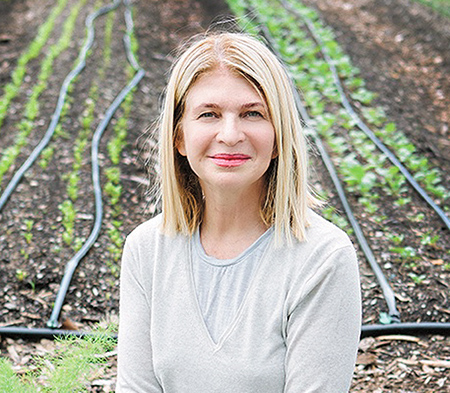 Running 11 restaurants keeps Martha Hoover hopping. But the matriarch of the Patachou family is adding even more to her plate.
She's expanding Public Greens, which opened two years ago in Broad Ripple, to downtown and Keystone at the Crossing, while introducing a fried chicken joint called Crispy Bird at 49th and Pennsylvania streets.
In addition, Hoover is moving the Patachou at 126th Street and Gray Road farther east in Carmel to take advantage of what she deems better demographics.
"I think 2017 is going to be a really big year for us," Hoover, 62, predicted during an interview with IBJ. "We really feel strongly that we're in a great position to expand in the market."
Hoover's current stable of eateries includes six Cafe Patachou restaurants, three Napolese pizzerias, and single Petite Chou and Public Greens outposts.
Public Greens, her latest creation, opened in late 2014 at 902 E. 64th St., in a vacant building resembling a train depot along the Monon Trail. The eatery offers soups, sandwiches and entrees with the same emphasis on fresh ingredients and sense of invention in enlivening familiar cuisine as seen in other Patachou family eateries. But the twist is that its profits benefit a not-for-profit Hoover established to provide after-school meals to children in need.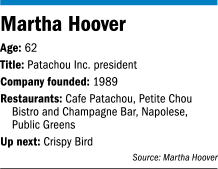 She now is finalizing a lease for a second Public Greens, in the ground-floor retail space of Cummins Inc.'s new downtown distribution-division headquarters, and has an agreement to open another, at the Fashion Mall at Keystone.
"Martha has one speed, and that's full speed ahead," said Bill French, a retail broker at the local Cushman & Wakefield office. "She's a brilliant lady."
Cummins spokesman Jon Mills declined to comment on the Public Greens deal because a lease has yet to be signed. But Hoover said she hopes the downtown location in the Market East Cultural District will be serving customers by summer.
"I love that it's a Deborah Berke building," Hoover said in reference to its famous New York architect. "It's a wonderful design."
Hoover is less certain about an opening date for the Fashion Mall outpost. That hinges on the timing of a larger food court renovation in the works by mall owner Simon Property Group Inc., with whom Hoover enjoys an ongoing relationship.
Hoover has operated a Patachou in Simon's 14-story headquarters building downtown since it opened in 2006, and she added a Napolese at the Fashion Mall in 2013. Other Napolese locations are at 49th and Pennsylvania streets, next to her original Cafe Patachou that opened in 1989, and downtown on South Meridian Street.
Hoover also said she has had a "running dialogue" with Simon about opening more of the pizzerias in Simon-owned shopping centers around the country. She told IBJ in 2014 that she wanted to open 20 restaurants outside of Indianapolis by 2020. However, none is in the works at the moment.
The expansion of Public Greens, meanwhile, comes as Hoover prepares to introduce Crispy Bird in the spring, also at 49th and Pennsylvania, in space occupied by Barking Dog Cafe before it closed in February.
Hoover drew inspiration for Crispy Bird from her Texas roots—her family lived in Galveston before moving to Indianapolis. She said fried chicken was one of her favorites while growing up.
While fried chicken is on the menu of Petite Chou and Public Greens, and fried chicken outposts have proliferated in Indianapolis, Hoover said she nonetheless sees opportunity.
"Most of them do a really good job with fried chicken, but the vast majority do a really, really bad job with the sides," she said. "I think that will be a huge distinguisher for us."
Hoover has come a long way since opening her first restaurant 27 years ago, particularly considering she began with no experience in the food industry.
The former attorney in the Marion County prosecutor's Sex Crimes Division was nonetheless able to develop a following with from-scratch cooking and by emphasizing farm-to-table ingredients before the concept was chic.
"She really instigated the foodie movement in Indianapolis," French said. "She brought good, quality, foodie-type products through Patachou, and she continues to evolve that with the other concepts she rolls out."
But even her signature Cafe Patachou brand needs some sprucing up every so often. A makeover of the six restaurants is beginning with the Patachou that's moving from 126th and Gray Road to East Main Street near Hazel Dell Parkway.
The location, expected to open next month, will feature a fresh, modern look that should take the chain through the next 10 years, Hoover said. She's converting the 2,400-square-foot former bank branch with the help of Indianapolis-based Rowland Design Inc.
"It's quite a departure from the Cafe Patachou brand," said Alex White, an architect and associate principal at Rowland. "A lot of people say, 'You're not changing the recipes, are you?' But it will be a different feel, all by design."
Plans call for removing much of the brick façade in favor of windows, to allow for more natural lighting, and transforming the drive-thru into outdoor seating for the warmer months.
Hoover has been hands-on during the renovation. Upon spotting the unevenness of a wall-to-ceiling border, she asked White: "Does that drive you nuts or what?"
What Hoover wants to avoid with the redesign is to mirror some sort of hot trend in the restaurant industry that will cause Patachou to become just another diner.
"There's something about her that's timeless," White said of Hoover. "There's a mix between modern and a sense of classic sensibility."
The downtown location inside Simon's headquarters on West Washington Street will be next in line for a reset, Hoover said.
Two of her three children are involved in the restaurants. David, a chef at Petite Chou, will lead the Crispy Bird launch, and Rachel Hoover Lekic serves as director of culinary education and sustainability.
Hoover has no plans to hand over the reins anytime soon.
"They can't push me out," she said. "But for someone who never meant to have a family business, it's wonderful to have two children involved."•
Please enable JavaScript to view this content.