The Fishers City Council unanimously approved an economic development agreement Monday night for the culinary-focused development that would be located just east of Ikea.
The Yard, a 17-acre development by Thompson Thrift Retail Group, would replace the existing Springdale Estates neighborhood on the southeast corner of 116th Street and Ikea Way, just east of Interstate 69. It would be adjacent to the new Ikea store and near the Topgolf venue that are both scheduled to open next fall.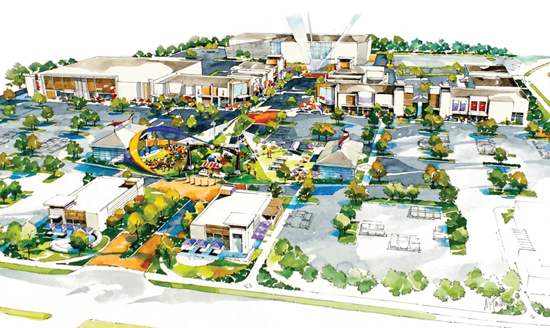 The project could cost $40 million to $60 million and would include 10 to 12 lots for restaurants and entertainment venues, along with 3,000 square feet of space for a culinary incubator that would be controlled by the city, similar to Launch Fishers.
As part of the deal with Thompson Thrift, Fishers will create a tax-increment financing district around the property, which is not currently part of the city.
Once the TIF district is established, the city will provide $7.1 million in TIF-backed bonds to help with infrastructure expenses. Impact fees will also be waived, which would have cost about $1 million, according to Brandon Dickinson, economic development director for Fishers.
The agreement also allows the city to lease the 3,000 square feet of shared culinary space, which could be in one building or split between two building, for $1 per year for 20 years. The city plans to allow entrepreneurs in the culinary industry to use the facility to launch new ideas and concepts.
The other restaurants in the development are expected to provide a mix of local, regional and national eateries and fill the void of upscale restaurants in Fishers.
"We have more questions from our residents on getting more restaurants here than virtually any other questions," City Council member Pete Peterson said.
The land still needs to be annexed and rezoned for the project. The rezone request was introduced during Monday's meeting, but it must go to the Fishers Plan Commission before the council can gives it final approval.
Construction could start as early as next year.
The 28-home neighborhood would be razed for the project. Thompson Thrift has purchase agreements on the homes, which were built from 1963 to 1992, with one section constructed mostly in the mid-1960s to mid-1970s and another primarily built in the mid-1980s.
Faegre Baker Daniels attorney Steve Hardin, who is representing Thompson Thrift, told the council that the neighborhood decided as a group to sell their properties and solicited interest from developers.
"It is extraordinary to assemble a property like this," Hardin said.
Please enable JavaScript to view this content.