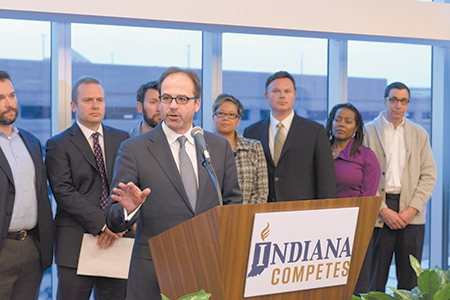 When Salesforce Inc. CEO Marc Benioff visited Indianapolis in September 2014, he told IBJ he wanted a "Salesforce Tower" here.
Less than two years later, he hashed out a deal to get one.
Salesforce in May said it would attach its name to the state's tallest building, formerly known as Chase Tower, and lease about 200,000 square feet. In the same breath, the company said it would hire 800 employees by 2021 and invest $40 million over 10 years, in exchange for $17.2 million in state tax incentives.
Salesforce's light-blue cloud logo is expected to be anchored to the 48-story structure early next year.
"Salesforce is among Indiana's largest technology employers, and we're thrilled to be investing for further growth in Indianapolis," former Salesforce Marketing Cloud CEO Scott McCorkle said in May.
McCorkle left the company on good terms in August, capping an 11-year run. He became the local face and head of operations following Salesforce's $2.5 billion acquisition of ExactTarget in 2013.
With about 1,400 employees here as of May, Indianapolis is Salesforce's largest outpost outside of San Francisco. Its expansion plans are a bet that it can boost that footprint, which tech observers said might involve both tapping into the local labor market and migrating talent here.
Salesforce's Indianapolis growth plans were hindered somewhat in spring 2015 after Gov. Mike Pence signed the Religious Freedom Restoration Act into law. The law, widely viewed as anti-gay, was fiercely rebuked by McCorkle, and Benioff used Twitter to help stoke a national outcry over it.
The law was ultimately amended to prohibit discriminatory usage, which seemed to allay Salesforce's concerns. According to people close to the process, the company considered six other cities, including Atlanta.
Besides Salesforce Tower, the company leases space in three office buildings downtown—but that arrangement could change in coming years. Its lease at the Guaranty Building (20 N. Meridian St.) is up at the end of the first quarter; its lease at the Gibson Building (433 N. Capitol Ave.) is up in 2018; and its lease at the Century Building (36 S. Pennsylvania St.) is up in 2021.•
Please enable JavaScript to view this content.