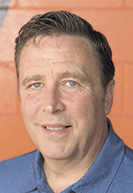 Whitt
After 11 years as executive director of White River State Park, Bob Whitt decided to get into an industry he had no experience working in—beer.
Last spring, Whitt became president and co-owner of Indianapolis-based Sun King Brewing Co. He replaced Omar Robinson, a co-founder and co-owner of Sun King, who retired at age 78 this year.
During his tenure at White River State Park, Whitt, 55, oversaw the development of and improvements to the park, which includes the Indianapolis Zoo, White River Gardens, Victory Field, Eiteljorg Museum of American Indians and Western Art, Imax Theatre, Indiana State Museum, NCAA Hall of Champions and The Lawn outdoor music venue. The park and its attractions draw more than 3 million visitors annually.
In the fall, Whitt described his new role at Sun King as managing and marketing the brewing company according to the vision and goals of its co-founders, Clay Robinson and Dave Colt.
They want Sun King to be synonymous with Indiana beer and spirits, Whitt said. "It's about taking their vision and making it a reality."
Part of that plan includes opening a $5 million facility in Carmel that will serve as the company's first distillery.
After years of focusing on ramping up beer production, including convincing state lawmakers to triple the amount of beer small brewers can sell annually, Sun King announced in September its decision to break into the distilling market.
The 15,000-square-foot, two-story craft distillery and taproom in Carmel's Midtown development could open by the end of 2017. Sun King expects to produce flagship spirits, along with traditional products like whiskey, gin and rum.
"We see it as a natural extension of the brewing process," Whitt said. "Distilling is something we've been interested in for a number of years, but we put it on the back burner because we've been so challenged to keep up with the demand for our beer."•
Please enable JavaScript to view this content.