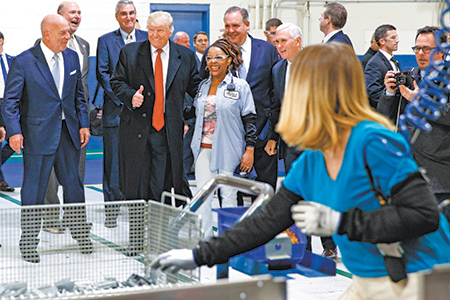 Carrier Corp.'s Indianapolis manufacturing plant made national headlines on two occasions this year—once when Carrier's parent company, United Technologies, announced it was moving all the facility's manufacturing jobs to Mexico, and once when it changed its mind.
In February, Carrier announced it would move 1,400 manufacturing jobs from Indianapolis to Monterrey, Mexico, by 2019. The news gained national attention after a worker recorded the announcement to employees, then posted it on social media.
The issue got even more national attention when Donald Trump incorporated criticism of the layoffs into his presidential campaign, using Carrier as an example of what's wrong with American trade policy.
This spring, Indianapolis Mayor Joe Hogsett formed a task force to help Carrier workers who expected to lose their jobs. The city also clawed back $1.2 million in local economic development incentives it had previously granted to the manufacturer.
The situation took a dramatic turn when Carrier announced a change in plans in late November, a few weeks after Trump was elected president.
Carrier said it planned to retain some manufacturing jobs in Indianapolis after all. The manufacturer also said it would spend $16 million to upgrade its facility, and designate it as a "Center of Excellence" for gas furnace production.
Including the engineering and headquarters jobs that were always going to stay in Indianapolis, the move will keep 1,069 jobs at the Carrier facility.
Trump, who had called Carrier's CEO in mid-November to ask him to keep the Indianapolis plant open, visited the facility Dec. 1 to celebrate the news. Vice President-elect Mike Pence and Carrier CEO Greg Hayes were also at the event.
In return for keeping the jobs here, the Indiana Economic Development Corp. will offer Carrier $7 million in economic incentives. The incentives are performance-based, meaning Carrier can claim them only after it meets agreed-upon job retention and investment goals.
The IEDC's board still must vote to approve the awarding of those incentives.•
Please enable JavaScript to view this content.