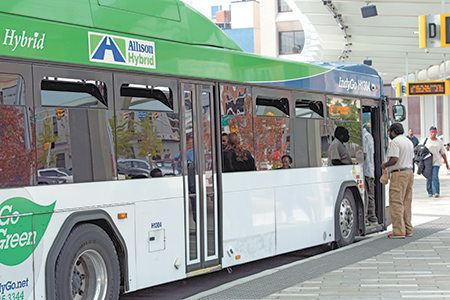 The quest to improve IndyGo bus service passed a significant hurdle in November, when Marion County voters approved a county-wide transit referendum.
The City-County Council will decide what happens next.
In all, 59 percent of voters said "yes" to the referendum, which gives the council the authority to impose an income tax of up to 0.25 percent to help fund the Marion County Transit Plan. That percentage equals 25 cents per $100 of income, or $125 in additional income taxes for a resident who makes $50,000 a year.
The transit plan calls for $390 million in service improvements—extending hours of operation, running buses through stops at more frequent intervals, and running every route seven days a week. The transit tax also would fund the operational costs of three rapid-transit lines, which feature buses that run more often and make fewer stops.
But that plan assumes the passage of the full 0.25 percent tax. If the council approves a tax at a rate of less than 0.25 percent, the transit plan would have to be scaled back.
In all, 19 of Marion County's 25 council districts voted "yes" on the transit referendum. The six districts that voted "no" are adjacent to one another, all in the southern part of the county. They include all four districts along the Marion/Johnson County line.
Transit tax supporters included a group called Transit Drives Indy, whose members include the Indy Chamber, AARP Indiana, the Indiana Restaurant and Lodging Association and others. A faith-based social action group called the Indianapolis Congregation Network, or ICAN, also threw its support behind the cause.
The Indy Chamber and the MIBOR Realtor Association even formed a pro-referendum political action committee, Keep Indy Moving Forward. As of Oct. 14, that committee had received $449,259 in donations and had spent $343,778, according to a campaign finance report.
Referendum opponents included a group called Stop the Red Line. The Red Line is the first phase of IndyGo's proposed bus rapid transit project.•
Please enable JavaScript to view this content.