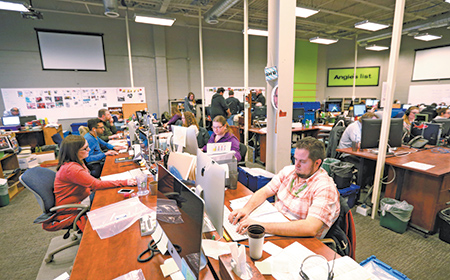 At the end of 2015, Angie's List CEO Scott Durchslag led the charge fending off activist investors who called for the struggling company's sale. But those activists quietly stuck around in 2016, and by November, Durchslag said the company was considering "strategic alternatives."
Durchslag's tone shift—from a focus on an independent turnaround to a warmup to outside help—might be the most consequential element of the Angie's List story going into 2017. But there were other notable developments for the home-services company, including a major business-model change, board changes and a round of layoffs.
Angie's List in July changed its business model to allow people free access to its basic offerings, after nearly 21 years of requiring subscriptions. That coincided with the company's migration to a new software platform.
The moves had immediate results. In the third quarter, which ended Sept. 30, the company said it added 1.6 million members, four times more than in the best quarter under the paid-access model. All told, the company had 4.5 million members at the end of that quarter.
The change to a "freemium" business model and technology investments were part of Durchslag's grand plan to turn around Angie's List, which had been battling slow revenue growth. But activist investors, principally New York-based TCS Capital Management and Washington, D.C.-based Vajra Asset Management, pressed for their own remedies—including board changes.
TCS Manager Eric Semler won a board seat in March, and Vajra backed the effort to replace old-guard Angie's List board members and shrink the board size from 12 to 10. In October, Chairman John H. Chuang resigned from the board, ending a 20-year stint there. Steven Kapner, who joined in 2008, also stepped down. None of the 10 existing board members has served more than five years.
During the November earnings call—which marked the fifth straight quarter of declining revenue—Durchslag reported progress with his turnaround plan but also said the company would seek $15 million to $20 million of annualized cost savings. Layoffs began later that week.
The company would not disclose how many people it terminated, but employees within the 1,800-person company estimated the figure in the low hundreds.•
Please enable JavaScript to view this content.