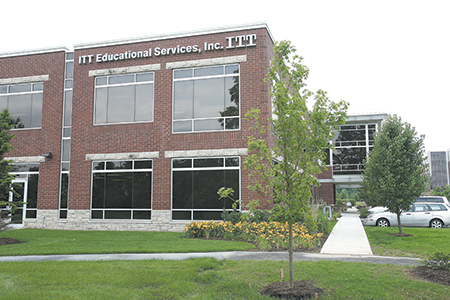 A longtime provider in the for-profit college education world shuttered this fall after years of pressure from federal regulators over its recruiting methods and students' educational performance.
Carmel-based for-profit-college oper-ator ITT Educational Services Inc. announced in September that it would permanently "discontinue academic operations" at all ITT Technical Institute campuses, eliminating its 8,000 employees and canceling the fall academic quarter at the last minute.
The company, which is now in bankruptcy proceedings, operated more than 130 ITT Tech campuses across 38 states. It had about 43,000 students as of March 31, compared with 51,200 in 2015.
Critics had been sounding alarm bells about ITT Tech for years. Tuition was high—about $45,000 for a two-year associate's degree at one point—and the quality of the educational programs was low, meaning many students were left buried in debt they couldn't repay.
But the company blamed sanctions from the U.S. Department of Education on its decision to close. The Education Department under the Obama administration was tough on the for-profit education industry. And ITT Tech's accreditor at the time was also in the process of deciding whether to revoke ITT's accreditation.
ITT began liquidation proceedings in an Indianapolis bankruptcy court Sept. 16.
New York-based Tiger Capital Group this month conducted online auctions for "furniture, fixtures and equipment" from ITT Tech's various facilities. The assets had an estimated acquisition value of more than $10 million, according to Tiger.
Reuters reported Dec. 5 that ITT's trustee, Deborah Caruso, asked for "nearly $9 million in a deposit account overseen by an entity set up by ITT Educational Services to provide student loans [to] remain frozen because it may stem from fraud."
Several lawsuits have been filed against the company. The court has issued a temporary order halting lawsuits filed against the company.
ITT was founded in 1946 as Educational Services Inc. and had been headquartered in Carmel since 1969. It filed its initial public offering in 1994.•
Please enable JavaScript to view this content.