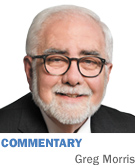 Nominations for IBJ's Health Care Heroes recognition program for 2017 are wrapping up Jan. 6.

Do you know a health care hero? Is there someone in the health care world who has made a difference in your life or the life of a loved one?

For the 17th year, we are privileged to showcase people and programs that have risen to the top of their fields in the eyes of their peers, their patients and their colleagues. Anyone who has gone through any kind of serious health-related experience or has had a family member do so has at least one hero, or several heroes. Almost everyone can describe in great detail a personal experience with a health care professional who helped them through a difficult situation.

My father died way too early, at 58. He suffered from lung disease and congestive heart failure caused by what was diagnosed as alpha-1 antitrypsin deficiency. It was a long, debilitating illness.

As you might imagine, navigating an illness like this was a monumental task. My father died 25 years ago, yet I can remember the details like it was yesterday. I couldn't begin to count the large number of health care heroes involved in his care from start to finish. But one hero in particular stands out: A nurse who helped care for my father on a daily basis throughout the ordeal, still—to this day—makes an effort to meet my mother for a holiday luncheon each December. Sometimes, the bonds made during the worst of times are the strongest.

Returning to today, my 85-year-old mother recently had a serious fall. My brother and I have been helping her navigate this event, along with other life-changing health concerns. I am developing a whole new list of health care heroes, and am very grateful to all the health care professionals helping my mom now.

Who are your health care heroes? Please let us know by nominating an admired colleague or someone who has made a difference in your life. Here's what you need to know.

Who is eligible?

The Health Care Hero awards recognize individuals and/or organizations in the central Indiana health care industry that are making a significant impact on the quality of health care. Eligibility includes any person or program in Marion and adjacent counties, and Madison County.

What are the criteria?

Three finalists will be chosen in each of five categories, and one finalist will be named our top honoree.

• Community Achievement in Health Care

This category honors a company or organization that has successfully implemented a program that has addressed an acknowledged problem in health care administration or delivery. Judges will consider the program's uniqueness, its cost-effectiveness and its impact on the community.

• Advancements in Health Care

Honors a company or individual primarily responsible for a scientific discovery or for development of a new procedure, treatment or device that can save lives or improve quality of life for a large number of people. Judges will consider the current and potential impact of the innovation.

• Physician

Honors a physician whose performance on the job is considered exemplary by patients and peers. Judges will consider evidence of positive clinical outcomes, patient satisfaction, longevity in the field, and testimonials from peers and administrators.

• Non-physician

Honors an individual from the nursing or allied health fields whose performance in the delivery of care is considered exemplary by patients and peers. Judges will consider longevity in the field and submitted evidence of the nominee's effectiveness, including testimonials from superiors, peers and patients. This category does not include administrative positions, such as hospital administrators or CEOs.

• Volunteer

Honors an individual who is not employed in the health care field but has had a major impact on the delivery of health care through volunteer work. Involvement can be past and/or present where nominee has made a significant difference. Nominations should explain the nature and dates of involvement.

How do I nominate someone and what is the deadline?

Complete and submit the nomination form online at ibj.com by Jan. 6.

When does the Health Care Heroes feature publish in IBJ?

The finalists and top honorees will be featured in the March 6 issue.

Can I see a list of previous finalists and top honorees?

Yes, online at ibj.com. Previous top honorees are not eligible for nomination, but previous finalists may be renominated.

Thanks for your nominations, and I wish everyone a healthy and prosperous New Year.•

__________

Morris is publisher of IBJ. His column appears every other week. To comment on this column, send email to gmorris@ibj.com.