The owner of the former General Motors stamping plant property plans to solicit bids for the site as early as next month and is expecting proposals to be much bolder than previous pitches.

The 102-acre parcel along the west bank of the White River downtown became available again after Michigan-based RACER Trust terminated its contract in June with REI Investments. The Carmel-based developer had planned to build an outdoor concert venue on about half the land but couldn't secure financing.

As recently as early 2015, it appeared set that the $30 million, 10,000-square-foot amphitheater would occupy the site's eastern half, and then-Mayor Greg Ballard's planned $500 million criminal justice center would occupy the western portion. But the criminal justice project unraveled later that year amid City-County Council opposition.

RACER now is poised to re-bid the West Washington Street property, across from the Indianapolis Zoo, to capitalize on growing interest from developers who envision a large-scale project encompassing the entire site.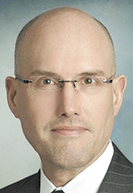 Rasher
"We're hearing concepts and ideas that would be transformative for the property and that neighborhood," Bruce Rasher, RACER's redevelopment manager, told IBJ. "The main focus of many parties has been mixed-use with a residential, office and retail component."

RACER, or Revitalizing Auto Communities Environmental Response, was established in 2011 to coordinate the redevelopment of old General Motors Corp. properties following the auto manufacturer's bankruptcy proceedings.

The entity plans to seek proposals in January or February and select an offer later in the year, Rasher said. At least six developers already have expressed interest, he said, prompting RACER to prepare to issue the call for offers.

The high amount of attention the property is generating among developers is partly due to the city's efforts to make it more marketable. This month, the City-County Council approved expanding the downtown tax-increment-financing district to include the former GM stamping plant property and the Market East Cultural District.

That sets the table for what could become a massive public-private partnership—given the size of the property—between the city and a developer, said Amy Burmeister, a multifamily broker at Colliers International.

"I still believe it would be shortsighted to bifurcate it among multiple developers," she said. "Having said that, the amount of time and equity required to develop the entire site could be insurmountable for many developers. This is an optimal case for a public-private partnership."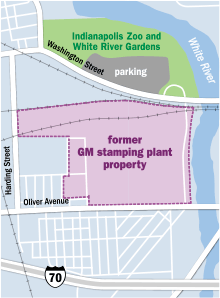 Tax-increment-financing districts capture incremental property-tax revenue generated by new development to pay down debt issued to spur economic development projects. Since the downtown TIF was created in 1982 to kick-start the rebirth of the urban core, it has helped fund a long list of developments—from Circle Centre mall to Flaherty & Collins Properties' $121 million apartment tower going up on part of the former Market Square Arena site.

Besides lobbying to extend the downtown TIF, city officials for the past five months have conducted dozens of meetings with neighbors and others who have an interest in the property—actions not lost on Rasher.

"While our collaboration with the previous administration can be characterized as very close in terms of coordination, the Hogsett administration has chosen to engage even further with RACER," Rasher said. "As a result, the elements that are necessary to attract intensive development are really hitting on what we need."

Mayor Joe Hogsett's vision to restore the city's crumbling neighborhoods could get a huge boost by connecting downtown to the former stamping plant property and even to areas farther west.

"I think that's a site that allows us to have our cake and eat it, too," said Thomas Cook, the mayor's chief of staff.

Support for building a neighborhood on the property has been percolating since at least 2011, the year the plant closed. The Urban Land Institute conducted a study that year recommending a mixed-use, mixed-income development that could become an extension of downtown.

Discussions later zeroed in on the justice center and concert venue, which would have replaced The Farm Bureau Insurance Lawn across Washington Street, operated by Live Nation.

The failure of the concert venue plan was a setback for the Indianapolis Zoo, which had partnered with REI in hopes of getting access to the venue's surface lot for overflow parking. Long term, the deal would have given the zoo a chance to expand its exhibits by building on part of its current surface lot.

Another idea, which was championed a year ago by Sen. Luke Kenley, R-Noblesville, called for the state to buy the land and turn it into an expansion of White River State Park. RACER, however, rejected the state's offer to pay the full $6 million asking price because it didn't have an economic development plan ready and declined to commit to the concert venue.

Cook at the city said concerns about zoo parking or park space could be addressed in one of the proposals.

"A long-term-parking solution for the zoo is something we've heard from multiple stakeholders," he said. "The opportunity to address that could take many, many forms."

Whatever development occurs on the property needs to integrate White River and capitalize on it as an amenity, Cook said.

A project there could serve as a bookend to what's underway to the north with 16 Tech—a 60-acre parcel just north of the Indiana University School of Medicine campus. It is expected to include a mix of research labs, corporate offices, business incubators, co-working spaces, apartments, retailers and parks.

Both would help remove the river's long-standing stigma as "a barrier to development," Cook said.•