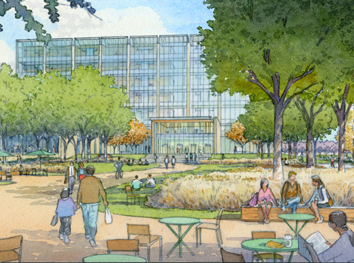 Mayor Greg Ballard believes WMB Heartland Justice Partners has the best bid for a new courthouse and jail.
WMB's $1.6 billion proposal is also the only one the city can afford.
After running a closed-door procurement in which the three bidders were allowed to shape the city's final requirements, two proposals came in above the city's ceiling payment of $50 million for the first full year.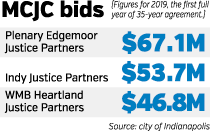 Still, the city will pay $750,000 each to the losing bidders, Indy Justice Partners and Plenary Edgemoor Justice Partners. The city promised a stipend so bidders would submit high-quality proposals, and so the city could retain the right to use their ideas, Deputy Mayor for Economic Development Adam Collins said.
It's not unusual for only one bidder to meet a government's requirements, but it's not the best outcome, said Wendy Epstein, a DePaul University law professor who has studied public-private contracts.
"What's different about WMB that they think they can make this profitable and others can't?" Epstein said.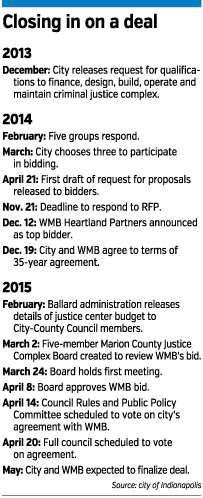 In public-private partnerships like the one Ballard is proposing, governments always hope the private-sector entity will lower costs through efficiency and innovation, Epstein said. "The concern is that they'll ultimately be forced to cut corners or reduce quality in some way to make it work."
Public-private partnerships work best when there's a robust market for the deal, and when government has the option to switch partners if the first vendor doesn't perform, Epstein said.
WMB said it could finance, design, build, operate and maintain the facility over 35 years for $1.9 billion. (Because of an unexpected decline in 30-year Treasury rates, WMB's nominal bid price has dropped to $1.6 billion since final bids were submitted in November.)
The city would pay a fixed annual fee, no more than $50 million in the first full year, 2019, according to the RFP. The ceiling escalates over time at the rate of inflation, and the bidders were to stay under that limit in each year.
WMB's first-year payment would be $46.8 million, or less if the city can close the deal in time to take advantage of the drop in interest rates
When Ballard announced WMB as the winning bidder in December, city officials didn't advertise that the other proposals came in over the city's $50 million limit.
The annual service fees to Indy Justice Partners would start at $53.7 million, and Plenary Edgemoor Justice Partners' proposal started at $67 million.
Indy Justice Partners' price was close enough to the limit that, if WMB's proposal had come up short in other areas, Indy Justice might have ended up with a higher overall score, Collins said. He added that the technical review team didn't have access to the financial information, so WMB wasn't chosen because of price alone.
A number of factors kept WMB's price down, Collins said. One was the cost WMB assigned to the risk of building on a brownfield, the former General Motors stamping plant site, he said.
The property owner, Revitalizing Automotive Communities Environmental, or RACER, Trust, removed contaminated soil and is responsible for monitoring and cleaning up polluted groundwater. If other contamination is identified once construction starts, that would be WMB's responsibility, Collins said.

Collins
"They are taking the majority of the environmental risk," he said.
Collins said WMB benefited from working with local environmental consultant Vicky Keramida, who since 1992 has managed a Superfund site in Tippecanoe County.
Last September, Keramida hired Mitch Roob, who worked under former Republican Mayor Stephen Goldsmith and former Gov. Mitch Daniels, as an executive overseeing growth. Collins said Roob's hiring didn't influence the Mayor's Office, since staff members have interacted only with Keramida herself.
Like the other bidders, WMB's plan is to keep buildings away from known contamination and install vapor-handling systems. The proposal also calls for planting a dense thicket of trees so their roots can absorb below-ground contamination and keep it from spreading off site. The strategy is known as phytoremediation.
WMB is made up of three firms that would have a stake in the deal: Meridiam, based in Paris; Walsh Investors LLC of Chicago; and Balfour Beatty Investments of London.
The lead equity partner, Meridiam, was also the sole investor and developer of the Long Beach Courthouse, the first building constructed under a public-private partnership in the United States.
Walsh is an affiliate of The Walsh Group, one of the largest contractors operating in Indiana. Walsh is a partner on the state of Indiana's East End Crossing portion of the Ohio River Bridges project.
WMB and the Mayor's Office are hoping for a favorable vote on their 35-year agreement at the April 20 City-County Council meeting.
Councilors also are weighing an analysis by their staff, which concludes that the city can't find enough savings through the consolidation of existing, inefficient facilities to cover the annual payments to WMB.
Ballard's team "vehemently" disagrees with that analysis, Collins said. And the Mayor's Office points out that doing nothing could also be costly, as downtown Jail I could require $35 million in repairs next year, and total replacement by 2035.
Epstein said most public-private partnerships are pitched as bringing no additional cost to the taxpayer.
"They're compromises. They're politically expedient," she said. "Sometimes they work. Sometimes they don't."•
Please enable JavaScript to view this content.