On the heels of losing two of its morning news personalities, WTTV-TV Channel 4 has hired Frank Mickens as its new morning anchor.
WTTV announced the hire of Mickens, who comes to the station from CBS affiliate WFMY-TV in Greensboro/Winston-Salem, North Carolina.
He will join WTTV's morning newscast in early 2017, station officials said in a news release Dec. 23.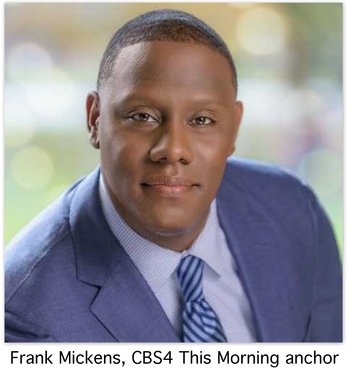 In the last month, WTTV has lost one of its morning news anchors, Marianne Lyles, and its traffic reporter, Katie Solove.
In late November, Lyles left WTTV to take a corporate communications job for Medline Industries Inc., she reported on her Facebook page. Medline is located near where Lyles grew up in the Chicago area.
Solove left WTTV earlier this month to take a job as morning and noon anchor with the ABC affiliate in Lexington.
WTTV's morning anchor desk is currently occupied by Tim Doty and Nicole Pence. Lindsay Riley is the station's morning weathercaster. Doty and Riley also work on the station's noon newscast.
The industry rumor mill has been churning about a possible overhaul to WTTV's morning news team as the station has struggled in the early time slots to gain viewers' attention in a crowded news market. Officials for WTTV or its parent company, Tribune Media Co., did not repond this morning to requests for comment.
In November, WTTV ranked fifth of five local news station in the all-important 25-to-54 age demo during the 5 a.m., 6 a.m. and 7 a.m. news, according to Nielsen Media Research. WXIN, WTTV's sister station, ranked No. 1 in those time slots in the 25-to-54 age group, which is most sought after by advertisers. 
WTTV's morning news in November had fewer than half the number of viewers in the 25-to-54 demo as the market's top two stations, WXIN and WTHR, according to Nielsen, and also trailed WISH-TV Channel 8 and WRTV-TV Channel 6 at 5 a.m., 6 a.m. and 7 a.m. by substantial margins.
WTTV officials said they are confident Mickens will help bolster the station's ratings.
"I can't wait to see the market's response to Frank," said WTTV Vice President of News Kerri Cavanaugh in a written statement announcing Mickens' hiring. "We are fortunate to have him on our team and look forward to him making an impact on our viewers and central Indiana."
Mickens has been a WFMY anchor, beat reporter and investigative reporter since 2003.
"We are excited to bring Frank's easy-going and approachable personality to Indianapolis viewers," WTTV General Manager Jamie Aitken said in the statement. "We are confident that central Indiana viewers will gravitate to his on-air style."
Mickens graduated from Syracuse University and is an avid reader, cook and traveler. He will be come to Indiana with his wife, daughter and two sons.
"I can't think of a better place for my family to live than Indianapolis. And I can't think of a better place to work than CBS4," Mickens said in written remarks. "The energy and momentum of the newsroom is impossible to ignore and arguably harder to emulate. I'm truly blessed to join such an admirable team of journalists and call myself a Hoosier."
Lyles, Doty and Riley were announced as WTTV's morning and noon news teams in late 2014.
Earlier this month, WTTV announced it had hired sports anchor Chris Widlic from local competitor WISH-TV Channel 8. He isn;t expected to appear on the air for some time due to a non-compete clause in his contract wiith WISH.
Please enable JavaScript to view this content.