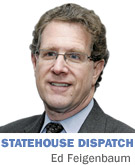 A former Gary casino owner was elected president, Indiana's governor was elected his vice president, Evan Bayh was trounced in a comeback bid, and a guy who most Hoosiers had never heard of was elected governor after his four-month campaign.
After (in)arguably the most tumultuous year in the 200-year history of the state of Indiana (and that Cubs championship), you can rest assured the 2017 legislative session promises none of that degree of drama.
The General Assembly saw the usual turnover via retirement, but there was no net partisan change among the 125 seats up for election, and only one incumbent was defeated (by a former lawmaker in a rematch). Legislative leadership remains unchanged.
Those leaders left the 2016 session with a firm idea of what they wanted from 2017: the proverbial honestly balanced budget with more money for schools and some type of preschool funding expansion. The big-ticket item this year: a world-class, long-term, data-driven infrastructure program that would fund long-ignored repairs and renovations; long-sought new roads, lanes, and bridges; and ongoing maintenance with targeted and sustainable revenue sources derived from those who use the system.
The unspoken pre-election agreement between all four legislative caucuses and both major party candidates for governor was that revenue enhancements would be required, but details would not be outlined until after the election.
That "mix for the fix" will be the centerpiece of a major end-of-session deal, remaining largely fluid through the April revenue forecast update.
Since the 2016 session, other needs and wants have arisen, including a determination to effectively address the complicated opioid problem, a fine-tuning of the controversial vaping regulations, a desire to expand the innovative Regional Cities initiative, and a push to streamline and consolidate proliferation of workforce development and education programs.
Lawmakers will also consider how to handle the reality that the ISTEP exam must continue for another year or two and what that means for school grading, takeovers and teacher bonuses. (There is also consensus that the first round of teacher-bonus distributions indicates a need for serious tweaks.)
Everything else now appears to be peripheral, including redistricting reform as advocated by a quasi-legislative study panel, changing how Marion County court judges are elected as mandated by a federal court, a Pence administration push to change some state economic development programs, treatment for lead and related environmental issues around the state as a public health budget matter, and a projected $2.3 billion in water infrastructure imperatives.
Gov.-elect Eric Holcomb, a Republican, also has yet to weigh in on his 2017 initiatives. He rode Trump's 19-point coattails into office largely without having to be specific about agenda items he would pursue. You'll hear by mid-month what some of those might be, and legislative leaders will decide just how accommodating they want to be to a new governor who didn't come into office with the same type of political, governmental or business-side base as his recent predecessors. He'll also have to decide just how to use his bully pulpit.
Money will be a major concern, as always in a budget session. While budget forecasters expect fiscal year 2017 to end with even larger shortfalls than originally projected, they also are optimistic about new dollars in the coming biennium—although legislative fiscal leaders remain skeptical and won't be easily persuaded to spend that speculative income.
There is also pervading uncertainty about what the Trump presidency portends for federal funds, a yuuuuggge part of the state budget. The governor-elect put solons "on notice" that budget adjustments might be required in fiscal 2019 should the Trump administration and Congress make major changes this year to assorted federal grant programs, including federal Medicaid expenditures that are key to Indiana's HIP 2.0 program.
Lawmakers are not likely to be sidetracked by hot-button issues such as abortion, hate crimes, LGBT civil rights and immigration. All signs point toward an amicable session focused on roads, jobs, health and education.•
__________
Feigenbaum publishes Indiana Legislative Insight. He can be reached at edf@ingrouponline.com.
Please enable JavaScript to view this content.