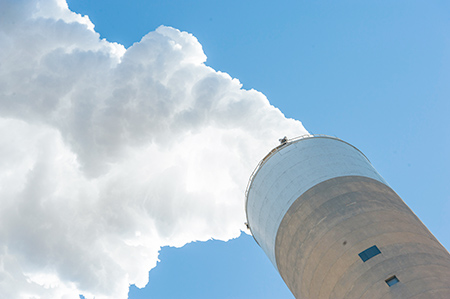 These are not exactly romantic, twinkling-in-the-moonlight ponds, where you might paddle a canoe with your sweetie.
They are more a cluster of mushy, gray-black sludge lagoons, filled with tons of coal ash and toxic metals like mercury, arsenic and cadmium.
For decades, Indianapolis Power & Light Co. dumped coal ash from its power plants at Harding Street in Indianapolis and Eagle Valley in Martinsville into unlined, industrial waste ponds—a common industry practice and completely legal. Over time, the ponds grew into small lakes with high embankments, up to 50 feet deep.
Now, as IPL is ditching coal in favor of natural gas at both power plants, and with new regulations taking effect, the utility wants to close the pits, cover the tops with plastic membranes, and top them off with nearly three feet of sand and soil.
But environmental groups and some public officials are urging IPL and state regulators to consider other options. They say the "cap-in-place" technology is too risky, because the ponds are near rivers and groundwater aquifers, raising the chances of drinking-water contamination.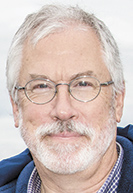 Maloney
They want IPL to dig up the coal ash from the pits and move it to safe, lined, dry landfills away from the waterways, or send it off to be reused as building materials.
"This is an environmental problem that's been around for a long time," said Tim Maloney, senior policy director at Hoosier Environmental Council. "It's like an 18th century technology."
The issue looms large for Indiana, which leads the nation in coal ash ponds, with 84 scattered around the state, according to a recent report from Maloney's group.
Statewide, the ponds have had at least 13 documented cases of ash spills and other documented cases of groundwater contamination. One of the worst was a spill of 60 million gallons of coal ash into the West Fork of the White River near Martinsville in 2007 and 2008 when a levee failed at IPL's Eagle Valley power plant.

The ponds are rarely inspected, the report said, and for years, Indiana regulators didn't set limits on the runoff into waterways. Most ponds don't have liners to prevent seepage into groundwater.
In recent years, environmentalists have been urging the federal government to designate coal ash as a hazardous waste and regulate it under the Resource Conservation and Recovery Act, the nation's primary law governing the disposal of solid and hazardous waste.
In response, the U.S. Environmental Protection Agency declined to designate coal ash as a hazardous waste, but issued new rules, including regulations that require new coal ash ponds to have ground liners to keep contamination from leaching into nearby streams.
But federal rules say that to close already-existing ponds, a utility must follow a regulated closure process that typically involves capping, lining or removing the ash. That process can cost tens of millions of dollars.
In filings submitted to the Indiana Department of Environmental Management, IPL estimates that the cost to close, cap and monitor the four active and four inactive ponds at the Harding Street plant would be $21 million. Doing the same at the three active and two inactive ponds at Eagle Valley in Martinsville would cost another $19.8 million.
IPL said it would pass the cost to ratepayers but did not say how much monthly bills might increase.
"IPL understands the concerns some may have about our recommended closure process," company spokeswoman Claire Dalton said. "With this is mind, we are focused on this being a very transparent process and have held two public meetings where an overview of the closure plan was presented. We have and will continue to have open dialogue with those who have concerns."
Too much risk?
IPL can expect lots of feedback, and so can state regulators. Already, dozens of people have filed comments with IDEM, expressing concern that the utility's plans are risky for the environment.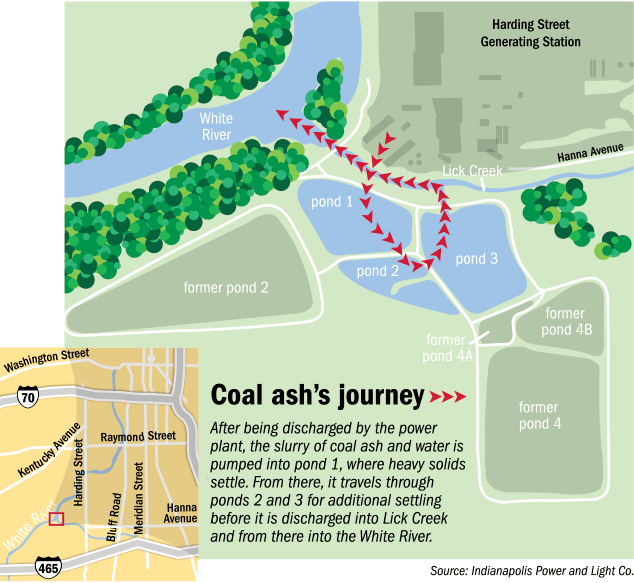 That includes a bipartisan majority of the 25-member Indianapolis City-County Council. In December, 13 councilors (eight Democrats and five Republicans) signed a letter stating concerns about leaving the ash where it is.
"IPL's proposed plan would place a cap over the site but leave the coal ash waste where it is now, directly above a sensitive groundwater supply with no further water treatment," said the letter, which was also signed by several church and neighborhood leaders. "We are concerned that contamination will continue to flow into the nearby White River, while buried waste leaches pollution into the groundwater."
The letter asked IPL to conduct a cost-benefit analysis of all other closure options, including hauling the waste to a dry, lined landfill where there is less chance of groundwater contamination.
Trucking coal ash to landfills could be a laborious, expensive process, but it's not unheard of. Duke Energy Corp., which suffered several high-profile spills in the Southeast, is in the process of building a lined coal-ash landfill in South Carolina and has already trucked more than a half-million tons of ash from the Carolinas to a landfill in Georgia.
IPL declined to say whether it had conducted a detailed cost-benefit analysis of other options. But it said covering ponds was the least expensive option.
"Experts and the EPA have determined that this type of closure is appropriate and equally protective to clean closure," IPL's Dalton said.
But some environmentalists question whether the utility can know which plan is the cheapest, without a cost-benefit analysis of all options.
In addition, if IPL just caps the ponds, it is required to monitor the groundwater for decades. Any problems down the road could mean further treatment and higher costs for IPL and its customers.
"So our feeling is, if they were to do it right the first time, it could be the best cost option for ratepayers in the long run," said Jodi Perras, head of the Sierra Club's Beyond Coal movement in Indiana. "If you remove the ash, get it away from the groundwater, contamination almost immediately starts to get better, whereas cap-in-place doesn't seem to have the same effect, based on the research we've seen."
Aquifers and wells
A collection of consumer and environmental groups—including the Sierra Club, Hoosier Environmental Council, Earthjustice and Citizens Action Coalition—sent a letter to IDEM last month pointing out that the Harding Street ponds "sit directly above and within a few feet" of a shallow sand and gravel groundwater system that adjoins the river.
The area has flooded eight times in the past 10 years, raising the risk that toxins in the ponds could be swept into the river and that the underground aquifer could become contaminated.
The aquifer extends north and south along the White River and supplies drinking water from wells within a few miles of the ash ponds, according to the Indiana Department of Natural Resources.
IPL's own testing has revealed the groundwater underneath the ash has been contaminated several times with high levels of arsenic and other harmful chemicals and metals. The highest concentration of arsenic was found at levels nearly 50 times the national drinking-water standard. Boron levels were 13 times the EPA's health advisory level, according to the environmentalists' letter to IDEM.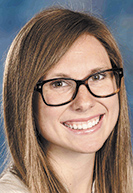 Dalton
The company's system of ponds is designed to let the heavier solids fall to the bottom. The water and coal slurry move from one pond to another, where additional settling occurs before water flows out into Lick Creek, a tributary of the White River.
IPL says it has faith in its closure plan.
"We are confident that our pond closure plans are the most reasonable-cost option for our customers while protecting health and the environment by meeting the standards established by public policy," Dalton said.
In the coming weeks, IDEM will review the public comments and IPL's voluminous filings. In the meantime, the environmentalists say this is a critical moment for Indianapolis.
"Nearly 1,000 other wells are within a three-mile radius of the coal ash ponds," they wrote. "Without adequate groundwater monitoring, both at the ash ponds and in the surrounding vicinity, the question of whether the contamination underneath the Harding Street ash ponds is migrating to nearby drinking water wells will remain unanswered."•
Please enable JavaScript to view this content.