More than 600 hopeful Hoosier students will compete for one of 200 scholarships that will provide up to $7,500 annually to those who agree to teach in the state for at least five years after graduation.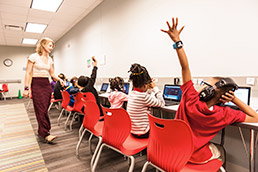 Students chosen to receive Next Generation Hoosier Educators Scholarships will receive $7,500 per year in exchange for teaching at schools in Indiana for five years. (IBJ file photo)
House Speaker Brian Bosma, R-Indianapolis, crafted legislation last year creating the Next Generation Hoosier Educators Scholarship, which will be administered by the Indiana Commission for Higher Education.
The $7,500 annual scholarship will cover about one-third of costs at a public college in Indiana beginning in the 2017-2018 academic year. The median cost in a public college in Indiana is $21,000 per year.
A total of 643 students, two-thirds of whom are high school age, applied for the scholarship. Applicants represent 273 high schools in 84 of the state's counties.
To qualify, applicants must either graduate from an Indiana public or private high school in the top 20 percent of their high school class or earn a score in the top 20th percentile on the SAT or ACT. After graduation, students must teach at an eligible Indiana school for at least five consecutive years.
Recipients will be selected through a competitive process based on the student's academic achievement, teacher nomination and in-person interview.•
Please enable JavaScript to view this content.