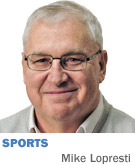 We have here the most recent rankings as the college basketball season hits the halfway mark and ... wait a minute. Where's Indiana?

From No. 3 to the also-receiving-votes gang, along with UNC Wilmington and Nevada. That's what four losses in five games can do—sink you faster than Atlantis.

The Hoosiers' recent slide is just one of the items leading into the season's second half and the sprint to March for state teams. Let's do it by the numbers, all through the close of business Jan. 12.

1: Indiana's ranking in the Big Ten in scoring, shooting and rebound margin. So why the problems?

340: The Hoosiers' national ranking in turnover margin. That explains a lot. As do the occasional lapses in half-court defense. Tom Crean maintains the blips are fixable, even as the Indiana masses grumble. "I'm proud, without question, of the way we're improving," he said after the loss at Maryland, which left the Hoosiers 0-2 in true road games. (Remember their Fort Wayne visit? Rest assured, Fort Wayne does.)

They'll need to make any needed repairs soon because ...

4: Big Ten road contests for Indiana in its last five games. Not the prescribed way to go bouncing into March.

16: NCAA Tournament victories for Butler the past 10 years. Or one more than Indiana and Purdue have combined (potential trivia question for the next sports bar lunch). With the Bulldogs starting the season 4-1 against ranked opponents, and taking down No. 1 Villanova, there is reason to believe that total could grow. As long as they don't have to play at Creighton again.

4: Big East teams in the top 15.

0: Big Ten teams in the top 15.

2: Butler return flights from Big East road games so far that have been aborted by mechanical issues. Right about now, the Bulldogs are preferring buses.

14: Double-doubles (10-plus points and rebounds) in the first 17 games this season for Caleb Swanigan, more than anyone else in the nation.

4: Swanigan 20-20 (points and rebounds) games this season.

4: Number of 20-20 games by players at the other 350 Division I schools combined.

2: Number of 20-20 games by the rest of the Big Ten ... in the past 20 years.

Do we hear a nomination for national player of the year coming from West Lafayette? Possible campaign slogan: "Make Purdue great again."

The favorites at the moment are Villanova's Josh Hart and Kansas' Frank Mason III, but Swanigan is getting hard to ignore. This from Matt Painter:

"On the court, he works really hard, and so basketball means a lot to him. He's not one of those guys that just knew, when he was in seventh or eighth grade, he was going to be a phenom. He was 380 pounds. Now to be 245 and the work he puts in every day for his diet and his body, you're just happy for a guy seeing his hard work pay off."

When Swanigan pondered heading to the NBA last spring, he did his research and heard from those who know that he needed work on being a consistent outside shooter and defender, finding a role as a distributor of the ball, etc.

Painter again: "I think he listened to what they told him. Those are all things he's doing. Those are all things that are going to help him be an NBA player. I'll be shocked if he doesn't play 12 to 15 years in the NBA, just because he can go there and play a role."

So, national player of the year candidate? "At the beginning of the year, you went off last year—he was a true freshman that skipped his senior year in high school—so you didn't know," Painter said. "I've never coached a guy who skipped his senior year in high school. You coach for 24 years, you normally see about everything that's come through the chute. And for a guy like that, the way he's playing, I think he's a candidate. He's definitely going to be an All-American just because his effort is so much of his game. How's the effort going to go away? It's not going to go away.

"I don't know of anyone right now who's impacting the game quite like he is in all facets of the game."

Swanigan's view: "For people to remember you, you've got to win. Anything could change in 10 games. It could be national player of the year now, but then after 10 games, 'What happened to Caleb Swanigan?'

"I feel like I can do a lot better at the game. Just a lot of simple parts. I feel like I can be a better defender. I'm not content with where I'm at. But it's a good start."

12.9: Swanigan's nation-leading rebound average.

"That's as simple as effort," he said. "Effort and hands. Just keep going every time. A hundred possessions in a game, if you go a hundred times, at least 10 will bounce right to you, and the other ones you've got to go after."

12-1: Notre Dame's record in its last 13 overtime games.

84: The Irish free throw percentage, best in the nation. Bottom line: You don't want to (A) foul them, or (B) go more than 40 minutes against them.

1: Notre Dame starting lineups so far this season, suggesting stability, health and a reason for the 14-2 record. Indiana, by the way, has used six lineups.

24.2: Scoring average for Valparaiso's Alec Peters, tied for second highest in the nation.

229: Valpo's national ranking in field goal shooting, a number that will likely need upgrading if the 12-4 Crusaders, preseason Horizon League favorites, are to challenge 14-3 Oakland for the league title.

7: Indiana State losses in its last eight games, a puzzling cliff dive for a team that beat Butler and pushed Iowa State and Stanford to the wire.

5: Number of Indiana-born players out of 20 who started in the Crossroads Classic, among Butler, Indiana, Notre Dame and Purdue. So the fates of all four teams depend heavily on out-of-state imports.

11-2: Fort Wayne's record since that overtime shocker against Indiana.

Can the momentum carry the Mastodons all the way to their first NCAA Tournament bid? That'll be something to watch for the second half. So will Swanigan's feats, and finding out if Indiana has a second wind. Not to mention Butler's travel log.•

__________

Lopresti is a lifelong resident of Richmond and a graduate of Ball State University. He was a columnist for USA Today and Gannett newspapers for 31 years; he covered 34 Final Fours, 30 Super Bowls, 32 World Series and 16 Olympics. His column appears weekly. He can be reached at mlopresti@ibj.com.