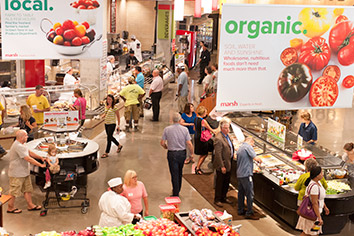 Marsh Supermarkets has stopped paying some of its bills, and one landlord claims it's owed more than $100,000 for past-due rent—developments that suggest the Fishers-based chain is facing heightened financial strain.
Marsh failed to pay rent in December and January for its store at East 21st Street and North Post Road, the owner of the property said.
In addition, Marsh has failed to pay a handful of contractors for work totaling $136,500, according to mechanic's liens filed the past two months with the Marion County Recorder's Office.
Further, a Carmel-based security firm sued Marsh in early January, claiming the retailer owed nearly $27,000 for loss-prevention services at some of its stores. The dispute has since been resolved and the debt paid.
Erik Jansen, part of a Seattle, Washington-based ownership group that owns the east-side strip center, told IBJ that Marsh owes it not only for rent but also for two installments of unpaid property taxes.
"It's business as usual," Jansen said of the Marsh store. "And how a company in this town can think it's OK to steal from their landlords is beyond my code of ethics."
Others landlords contacted by IBJ either didn't return phone calls or declined to comment.
Calls to Marsh spokesman David Palmer weren't immediately returned.
The Seattle landlord has notified Marsh that it is in default under the lease and that it intends to sue, Jansen said.
Jansen said he's received no official response from Marsh regarding why it's not paying. But he said that based on his conversations with executives, he doubts the company will pay, leaving the store on Post Road in limbo.
"I find this unfortunate, sad and tragically unethical," he said.
Marsh, founded by the Marsh family in 1931, is owned by the Florida-based private equity firm Sun Capital Partners. It operates 72 Marsh and O'Malia locations in Indiana and Ohio but boasted nearly 120 upon its purchase of Marsh in 2006.
The grocery chain has steadily closed stores in recent years in the face of withering competition from Kroger, Meijer, Walmart and other chains.
Marsh said in July that it has been boosting its competitiveness with an aggressive store-renovation program. It said it upgraded 25 stores over the last two years and that another 20 were in the planning stages.
But not all contractors have been paid for their work, according to mechanic's liens, nine of them filed by the local mechanical contractor DEEM LLC. The company filed liens in December and January on unpaid bills ranging from $1,078 to $16,891 stemming from work it performed at Marsh locations.
DEEM declined to comment on the liens it filed against Marsh.
Other liens filed in November and December show Marsh owes ABC Supply Co. $26,544 and Quantum General Contractors $46,250.
And in early January, Coraz Security Inc. sued Marsh to collect on the nearly $27,000 the company said Marsh owed. The suit says Marsh agreed in November 2015 to pay Coraz $40 per hour for loss-prevention services. The security firm ceased providing the service about a year later, after Marsh stopped paying.
Marsh ultimately paid the full $27,000, but only after owner Fred Coraz contacted an attorney and filed his complaint.
"If they had just talked to me," Coraz said, "we could have worked something out."
Sun Capital—which bought Marsh for $88 million in cash and the assumption of $237 million in debt—has tried on and off to sell the chain in recent years. It's not clear whether it's currently on the market.
The chain's biggest investment in recent years was a 40,000-square-foot Marsh that opened at Senate Avenue and Michigan Street downtown in 2014. 
Outside of downtown, however, it has retrenched. The most recent Marsh-owned grocery to close was the O'Malia's Food Market on South Meridian Street, which shut its doors in November.
The homegrown O'Malia's chain, which was founded by Joe O'Malia in 1966, had eight stores when Marsh acquired it in 2001. The new owner converted some of the stores, including one downtown at 320 N. New Jersey St., into Marsh locations.
The lone remaining O'Malia's is at East 126th Street and Gray Road in Carmel.
Sun's ownership of Marsh now runs 11 years, an eternity for private equity firms, which typically try to cash out within six years. 
The long holding period doesn't necessarily mean Sun has yet to reap a return on its Marsh investment, however.
Reuters recently reported that Sun Capital nearly doubled its investment in mall retailer Limited Stores, despite shutting it down this month and writing its value to zero. The return came in the form of distributions and dividends in the years after it bought majority ownership in 2007. 
Through those payouts, Sun received 1.8 times its $50 million investment, according to an email cited by Reuters that Sun sent to its investors.
Please enable JavaScript to view this content.