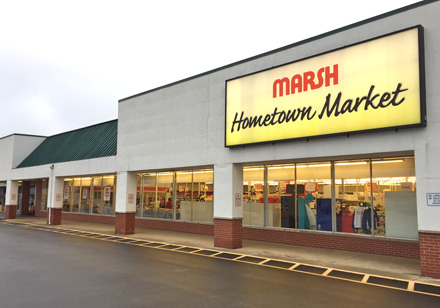 Marsh Supermarkets plans to close its store near Keystone Avenue and 53rd Street this month—another possible sign that the Fishers-based chain is struggling amid increasing competition in the local grocery sector.
The store, at 2302 E. 53rd St., is the same location where Marsh opened its first Indianapolis store, in 1957, when the chain was still based in Muncie.
The grocery is in a retail center called Keystone Plaza, just down the street from a new Meijer store. It is set to shut down at 5 p.m. Jan. 28, just before its lease is to run out in February.
Marsh had extended the store's lease—which was originally scheduled to expire in August—in an effort "to give the store more opportunity before deciding" to close it, said company spokesman David Palmer.
"We just don't think it is going to be successful for the life of [another] lease," he said.
IBJ reported earlier Tuesday that Marsh owes a landlord $100,000 for the lease of a different store and owes other vendors at least $136,000.
Palmer declined to comment on the company's financial situation but said Marsh has no plans to close other stores.
The chain has steadily shut down stores in recent years in the face of withering competition from Kroger, Meijer, Walmart and other chains.
Marsh said in July that it has been boosting its competitiveness with an aggressive store-renovation program. It said it upgraded 25 stores over the last two years and that another 20 were in the planning stages.
Palmer said three other Marsh stores "surround" the one that will be closing. He said he was unsure how many employees work at the Keystone location but said Marsh will offer those workers the opportunity to take jobs at other stores.
Marsh, founded by the Marsh family in 1931, is owned by the Florida-based private equity firm Sun Capital Partners. It operates 72 Marsh and O'Malia locations in Indiana and Ohio, down from nearly 120 when it bought Marsh in 2006.
Please enable JavaScript to view this content.