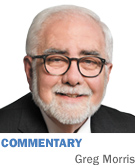 We have a new president.
President Obama has yielded his office to President Trump. It's now time for a reset or a respite, if you will, from the most liberal and invasive government agenda put forth in my lifetime. I'm sure people on the coasts and others don't agree with that assessment, but many of us living in the so called "flyover states" believe we've just witnessed a long period of extreme government overreach. We need a break from this march to the left.
Now, before the liberal-leaning half of our readers get too upset with me, my intent is not to disparage the ex-president on his way out the door. While it's tough for many to agree with his core policies, I hope most people believe he's not a bad man. His presidency was indeed historic. He served with dignity, and I know he truly believes his policies are in the nation's best interest. He did accomplish positive things during his eight years in office. Obama is a compassionate man, a good father and husband, and I wish him and his family good health and prosperity.
I haven't always been able to achieve such a moderate tone with regard to Obama. My objections have always been about ideology and policies, not the man. The overall tone of all things has to improve. It starts with each of us. This doesn't mean we can't have passionate opinions and stand up for what we believe, but we need to strive to communicate those feelings with civility. We would be better off if we didn't live in a silo with only like-minded folks. What if we take the time to listen to what others think? If we do that, who knows what might happen? Maybe we'll find some common ground.
Not all may agree, but I think we do a pretty good job of working together in Indianapolis and in Indiana as a whole. There is a sincere desire to get things done in local and state politics. Sure, there are partisan battles, but overall, most of the players I know are moderate, reasonable folks who try to "hit it down the middle."
Indianapolis Mayor Joe Hogsett has taken that approach since he has taken office. Sen. Joe Donnelly has taken this approach with former Sen. Richard Lugar's seat. And I believe Gov. Eric Holcomb will do the same. I really liked what I heard in his State of the State speech.
But it's hard to find this kind of cooperation on the national scene. And I expect more nastiness and turbulent behavior from all parties as Trump takes office. If you thought the election was bad, you can count on more of the same. Obama was challenged at every turn, and I would expect the same treatment for Trump as he endeavors to roll back many of the previous administration's policies. After eight years of extreme government overreach and four to eight years of rollback, maybe we have to hit rock bottom to get to a point where everyone feels like we're back to where we were in 2008. At that point, maybe we can start again and work together to get some things accomplished for the greater good.
In any case, I'm hopeful the new administration can create some positive change. I'm hopeful Obama will stay out of the media spotlight for at least a period of time as outgoing presidents should not be publicly critiquing and, as a result, undermining the new administration. I worry the media will run to the former president continually for comment. I hope he can resist the temptation to oblige them. A year ago, I predicted Obama wouldn't be going anywhere when he leaves office and would stick with the fight. Today, I'm cautiously optimistic he will do the right thing. We'll see.
Yes, we finally have a new president. A lot of people are unhappy with the change. We have the protestors and unrelenting media attacks. But we also have a lot of people who are very happy with the sharp change, of course. I, for one, am eager to see a day where the majority of us are mostly happy with the direction of our country and optimistic for a brighter future. Call me crazy, but I still believe in miracles. It can happen if that's what we collectively choose for ourselves.•
__________
Morris is publisher of IBJ. His column appears every other week. To comment on this column, send email to gmorris@ibj.com.
Please enable JavaScript to view this content.