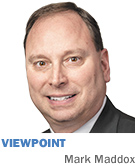 It seems like a major sea change is occurring in Washington as it relates to our federal officials and conflicts of interest. Since the Watergate era in the mid-1970s, Americans have demanded and our government officials have rightly focused on things like better ethics, avoiding conflicts of interest, and more transparency from our government officials and their departments. For 40 years, the trend has been in this positive, more ethical direction. It looks like it is now being reversed.
I am a big believer that the ethics of a business or government operation always start at the top and directly flow down to the worker bees. If the head of an operation is unethical or morally bankrupt, you will often find that attitude infecting the rest of the team. Fortunately, the opposite principal is also usually true.
It is well known that, during the recent presidential contest, President Trump refused to make publicly available his personal tax returns, disregarding a custom of disclosure that had been followed by candidates for more than 30 years. We now see that he is also going to ignore another presidential best practice of divesting himself of all business assets that could give rise to conflicts of interest with any number of his administration's future policy decisions. And if a sitting president isn't concerned about his own conflicts, it is a lot easier to appoint other government officials with similar issues.
President Trump has nominated Wall Street defense lawyer Jay Clayton to be the next SEC chairman. My feeling about this nomination was best summarized by Ohio Sen. Sherrod Brown, a member of the Banking Committee, who said, "It's hard to see how an attorney who spent his career helping Wall Street beat the rap will keep President-elect Trump's promise to stop big banks and hedge funds from 'getting away with murder.'"
A little background on Mr. Clayton. He represented Goldman Sachs during the 2008 stock market catastrophe that required Warren Buffet to infuse $5 billion into it. He also represented Barclays when it bought a failing Lehman Brothers, a transaction referred to by one financial writer as "the greatest bank robbery you never heard of." The analogies are limitless. He is the fox hired to guard the henhouse. It's like you hired the lawyer who usually represents all the criminal gangs or the organized crime families to be your next chief of police.
As one of the largest banks in the United States, Goldman is a firm that has frequent contacts with the SEC. So, is Clayton going to recuse himself from all SEC business involving firms he has previously represented? That would take him out of a lot of decisions. You need a less conflicted chair who can take part in and provide leadership on all issues.
But beyond his life's work in defense of Wall Street, Clayton is even further conflicted as his wife, Gretchen, is a wealth management adviser at Goldman Sachs. What this means is that the head of the SEC will be living in a household where a lot of the family income comes from a firm he is charged with policing.
Does anyone remember Trump belittling Ted Cruz as a "puppet" of Goldman's during the primaries because Ted's wife, Heidi, worked for Goldman Sachs? Now our SEC chairman has exactly the same conflict! Trump was right during the campaign to raise concerns about this type of conflict. Too bad he doesn't practice what he preaches.
This looks like another one of those "Trump pivots" we should all be getting used to.•
__________
Maddox, a former Indiana securities commissioner, is managing partner of Maddox Hargett & Caruso.
Please enable JavaScript to view this content.