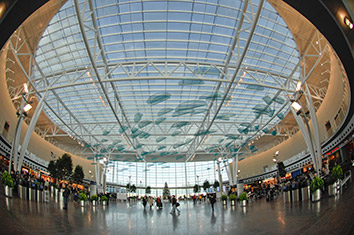 New things are exciting—but once the newness wears off, what next?
For the Indianapolis International Airport, that next step appears to be "look local." An overhaul of airport concessions—terminal shops and restaurants—will be a big part of the effort.
As the airport's passenger terminal prepares to turn 10 years old next year, officials say they're working to bring more local flavor to concessions and furnishings. The goal is to introduce visitors to the city's spirit and unique offerings from the moment they land. 
"We need to make sure that we're reflective of what is the best of Indianapolis," said Marsha Stone, the airport's senior director of commercial enterprise.
The airport began this effort, which it calls the Terminal and Campus Optimization Program, late in 2015. On Friday, Stone and a colleague, Senior Director of Planning and Development Shannetta Griffin, gave a project update to Indianapolis Airport Authority board members.
More than two-thirds of the airport's concession contracts are set to expire in 2018, Griffin said. The airport is taking the opportunity to recruit new concessionaires, with an emphasis on local vendors.
The airport has 53  vendors—27 for food and beverages, 16 for specialty retail, seven for news and gifts, and three for various services. The contracts for 36 are set to expire next year, and two expire this year.
According to a report the airport created for prospective vendors, this includes the vast majority of concessionaires in the terminal's Civic Plaza, including national retailers Qdoba, McDonald's, Brookstone, Chik-fil-A and Lids Locker Room. Concessionaires in the airport with local connections include Cafe Patachou and King David Dogs.
It was not immediately clear whether certain retailers were being targeted for replacement, or whether airport officials were scoping particular spots for new local vendors.
Last year, the airport hosted information sessions for local businesses interested in vying for a concession contract. Those contracts are set to go out for bids in the second quarter of this year.
Bringing in more local vendors would serve a dual purpose, the airport says—giving visitors a better sense of the city and helping help drive the local economy.
Airport Executive Director Mario Rodriguez told IBJ after the meeting that the airport is looking at encouraging local flair in other ways.
One example: As flooring needs replacement, Rodriguez said, new flooring might look like a basketball court or the Indianapolis Cultural Trail. 
The airport already has been quietly adding upgrades along the way—more WiFi bandwith, children's play areas and water bottle refilling stations.
The goal, Rodriguez said, is to make changes and improvements smoothly without disrupting the overall customer experience.
"If you [the traveler] don't know what we're doing, we're doing our job," Rodriguez said. 
The airport has hired Indianapolis architectural firm Synthesis Inc. to help it with planning.
Also at Friday's board meeting, the board elected a new president and welcomed two new members.
Board member Barbara Glass was elected board president, replacing outgoing President Kelly Flynn.
Board member Steven Dillinger was elected vice president. He replaces Jean Wojtowicz, whose term on the board ended.
Board member Alfred Bennett was re-elected as secretary, and airport Senior Director of Finance Robert Thomson was reappointed as board treasurer.
The new board members are Mamon Powers III and Toby McClamroch. They replace Wojtowicz and Philip Borst. 
 
Please enable JavaScript to view this content.