Iaria's Italian Restaurant (317 S. College Ave., 638-7706) has been around since 1933, but that's no reason to feel guilty about making fun of its name. Go on, chuckle about how it's only a slightly better name than "Isintary." You are forgiven.
Such jokes might bite if the food at Iaria's weren't so solidly good—not gourmet, mind you, but get-what-you-pay-for respectable, with just enough grace notes to make it memorable. And the environment—imagine what Buca di Beppo would look like without its emphasis on kitsch—is warm and welcoming. I felt like I was back in South Philadelphia, where there seems to be six such red-sauce joints on every block. And it felt good.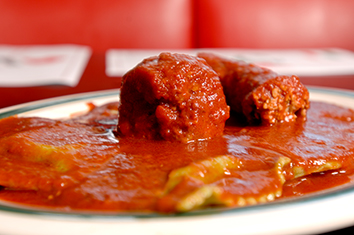 Iaria's spinach ravioli comes bathed in red sauce with a meatball or sausage (sorry, you can't have both). (IBJ Photo/Robin Jerstad)
Let's start with pizza. Iaria's All Around the World ($14.99) features chopped sausage, thin-sliced pepperoni, salami and mushrooms on a thin (but not cracker) crust. It made us wonder why salami isn't a more popular pizza topper. Other pie-makers might allow the meats to overwhelm the other ingredients, but Iaria's version maintained its pizza-ness, satisfyingly filling at lunchtime and as leftovers.
For the ravioli ($7.99), you have to choose between meat, spinach or cheese, and between a homemade meatball or Italian sausage. We went with spinach ravioli and found the green squares and our meatball in a bath of sweet sauce. With the right combination of creamy cheese and spinach, the ravioli was more than filling and the meatball kept it from getting dull. It came with a choice of a basic house salad or minestrone soup, served in a funky, out of character bowl that looked like a science fiction film prop.
Everything on the sandwich menu comes with kettle chips, although you can add the soup or salad for $1.50. We went with the Genoa Special ($6.50), with a deli who's who of Genoa salami, provolone cheese, capacola and imported ham—served hot or cold. Lettuce, tomatoes and Italian dressing are also squeezed between the slices of Ciabatta bread. Ciabatta may be more of a "gourmet" choice than an old-fashioned sub bun, but this isn't a gourmet joint. We'd have preferred the sub.
A shared cannoli ($3.50) was a bit of a letdown. The pistachio dusting added nice flavor to the cream, but the tough pastry reduced its impact. It was a minor disappointment in an otherwise satisfying meal. Indy would be a better place if there were an Iaria's in every neighborhood.•
—Lou Harry
__________
Second in our month-long series of "I" restaurants.
Please enable JavaScript to view this content.