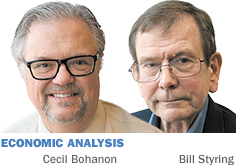 A good economist always looks for the hidden, second-order effects. You, too, Dear Reader, can be a good economist. Case in point: If you think federal spending and deficits are out of control or that the state of Indiana needs a bigger surplus, advocate cigarette smoking. In terms of the public budget, smokers are public benefactors.
That's right. If you want to control health-related government spending, make smoking respectable and cheap again. Get rid of all those smoke-free laws and break out the ash trays. Bring back the Marlboro Man. Pass out free smokes.
Before you conclude we've totally flipped our wigs, think about what you see and what you don't. What's obvious is that smoking is bad for you. It's also obvious those smokers' lung cancers and coronaries are expensive to treat. No smoking means less health spending to treat the horrible stuff smokers are prone to get.
Here's what isn't obvious. You'll likely live longer if you don't smoke. You'll trade that smoker's quick, aggressive lung tumor or the keel-over-dead heart attack for an old-age malady that may well prove even more expensive: dementia, Alzheimer's, fractured hips. These aren't cheap.
Although in a given year smokers of any age have higher health costs than non-smokers of the same age, the lifetime health costs of non-smokers are probably greater than that of smokers. Numerous studies have validated this proposition, although the result may not be definitive for all populations. Intuitively it holds for a simple reason: The dead have remarkably low health care costs.
What seals the case for smokers' net contribution to society is their impact on defined benefit retirement plans like Social Security. A nicotine addict sacrifices years of his life, and all his estate gets is a crummy $255 Social Security death benefit. The rest of us are relieved of all of his lost years drawing on the public purse. It is written in John 15:13: "No man hath greater love than to lay down his life for his friends."
So the next time you see a castoff furtively feeding his habit in one of the last "smoking-permitted" dark corners, befriend the misunderstood patriot. Say unto him, "Thank you for your service."
Practice good economics. If we can't control entitlement spending by raising the retirement age, then we can do it by lowering the death age.•
__________
Bohanon is a professor of economics at Ball State University. Styring is an economist and independent researcher. Both also blog at INforefront.com. Send comments to [email protected]
Please enable JavaScript to view this content.