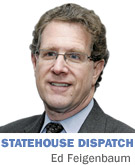 The Statehouse in Indianapolis and Lake County are about 125 miles apart, but the state's second-largest county often feels closer to Mars than to its capital.

Residents of the key economic and industrial hub associate more with Chicago for news, economic welfare, entertainment and sports than with anywhere in Indiana and feel ignored by state government in Indianapolis.

To a large extent, they are correct. While many blame Democratic Party dominance for Republican officials' paying them short shrift, even Democratic governors and legislative leaders have failed to heed their needs. The industrial cities of Lake County remain Democratic strongholds, but "South Lake"—the county's growing southern tier—is emerging as a Republican bastion, and the county is still treated as a stepchild.

Govs. Evan Bayh and Frank O'Bannon, both Democrats, tried to help—at least from their perspective—but it was never enough for locals. Gov. Mitch Daniels, a Republican, tried to forge relationships based on Lake County's economic importance to the rest of Indiana (and vice versa), but also failed to gain the trust of residents or officials.

Mayors of Democratic cities in Lake County never seemed to connect with Indianapolis, either, whether they were outsiders who viewed state government as a convenient political target or political insiders frustrated because they knew how to work the system but still couldn't get results.

Why? Because they were from Lake County, of course.

Years, decades and generations of neglect have come home to roost. Continued avoidance might no longer be viable. This session, Lake County assumes greater importance in the legislative arena than in recent years. Its needs might partially drive the budget debate and thus the discussion on related policy areas.

As the infrastructure package is debated, the Region pushes double-tracking of the venerable South Shore Line to Chicago and extension of its West Lake Corridor. The nearly $900 million price tag has achieved almost universal acceptance across party lines in Indianapolis. This is viewed as an investment to further tie northwestern Indiana to Chicago and promote increased migration of residents from Illinois to Indiana, expanding the local tax base and assuring sustainable economic development.

That's also a long-term desire in an age of short-term crises.

East Chicago is coping with fallout from lead contamination at a 350-unit public housing complex and nearby homes; some 1,100 residents must relocate by April. The project was built 40-plus years ago (amid taint of corruption) in the footprint of a lead smelter and several other industrial facilities. Children have elevated lead levels in their blood, and public assistance for housing, relocation, health and daily expenses has been minimal. A school in the contamination zone has closed. Some local students are accommodated at a nearby school forced to reopen at considerable expense. Others moved to other nearby school districts, which are having trouble keeping up with the influx.

The local legislative delegation seeks significant cash infusions to address the myriad problems after the Pence administration declined help in December (complicated by the Trump-Pence administration's imposing a freeze on all U.S. Environmental Protection Agency grants and contracts in its first week).

The Cline Avenue Bridge, which carried 30,000 vehicles daily to casinos and steel mills, was abruptly closed in 2009 as unsafe and quickly demolished; a $150 million-plus state-promised new public-private partnership replacement remains in limbo.

The Distressed Unit Appeals Board and Indiana Department of Education are contemplating options for dissolving or consolidating the cash-strapped Gary schools—in an enrollment spiral after a November funding referendum fell short. The district owes some $75 million to vendors and the IRS. The state advocates building closures and about 100 more job cuts.

Between the big-ticket transportation requests, East Chicago's special pressing public health needs (and ancillary items), and Gary's school funding deficiencies, Lake County will be a major state budget player this year. Solons may have to give them a larger slice of a same-size pie.•

__________

Feigenbaum publishes Indiana Legislative Insight. He can be reached at edf@ingrouponline.com.