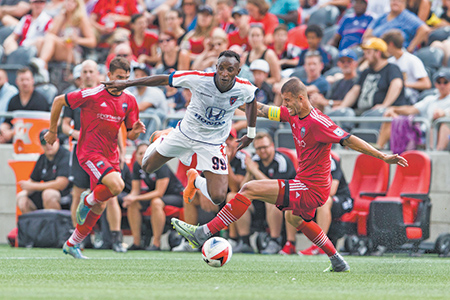 The window on Ersal Ozdemir's dream of bringing a Major League Soccer franchise to Indianapolis might be closing—fast.
The Indianapolis real estate developer has had ambitions of joining the country's top-tier league since launching the Indy Eleven in the lower-tier North American Soccer League more than three years ago.
"When I started the team, I said I'd look at moving to the MLS down the road," Ozdemir told IBJ. "We're down the road."
That's why on Jan. 31, the Eleven submitted a bid to become one of four expansion teams in the MLS—a proposal that included a $100 million-plus stadium. He said the latter is necessary whether the team moves up to the MLS or stays in the NASL.
"Without a new stadium, we have some serious decisions to make," he said.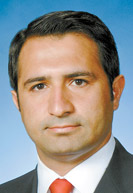 Ozdemir
There are four key reasons why now might be Ozdemir's—or perhaps anyone's—best shot to bring an MLS team to the Circle City.
First, with MLS franchise valuations skyrocketing and the league's expansion franchise fee escalating even faster, Ozdemir, who owns Keystone Group, and his investors might not be able to afford the jump later.
Ten years ago, the MLS expansion fee was $10 million. This year, MLS officials are asking two of the 12 groups applying for a new team to pay $150 million each. Those two franchises will join in 2020, bringing the league to 26 teams.
Officials also have promised to grant teams to two other groups from among those applicants, but have not set their franchise fees. Two sources familiar with the MLS' thinking said $200 million isn't out of the question.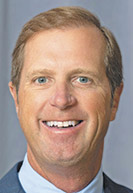 Mohr
Ozdemir said his investor group "absolutely has the resources" to get an MLS franchise off the ground. The group includes local auto dealer Andy Mohr; Elwood Staffing President Mark Elwood; Heritage Environmental Services President Jeff Laborsky; and Mickey Maurer, a shareholder in The National Bank of Indianapolis and in IBJ Corp.
Maurer said he is a likely investor if the team gets the nod from the MLS, adding that his investment would be relatively small. Elwood declined to specify what his investment would be. Mohr told IBJ he is fully committed to the initiative and said his investment would be "substantial."
"This sport is continuing to grow and now is a good time to get in," said Mohr, who has kids who have been avid soccer players. "There's no question that, for a number of reasons, there's quite a bit of urgency to get in now. I think that's why you see 12 [ownership groups] bidding."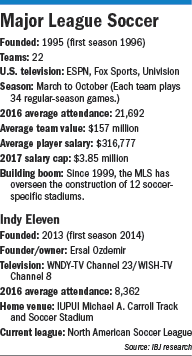 He said soccer is a particularly good niche "with younger people, with shorter attention spans. The action in soccer is non-stop with a lot fewer TV timeouts."
Through a public-private partnership, Ozdemir said, he is seeking to raise $320 million. That includes the franchise fee, just over $100 million for a new stadium, and startup operating cash. His group will need about $5 million to meet player payroll the first year. The league's salary cap this year is $3.85 million, and that's certain to go up by the time an expansion franchise begins play.
Enough net worth?
The second factor adding urgency to Ozdemir's plan is the MLS' net-worth requirement for ownership groups. Sources familiar with the MLS said the requirement is currently more than $250 million, but as the value of teams—and the cost of doing business in the league—escalates, that requirement could easily double within a few years.
While Ozdemir and his investors are all successful businessmen, reaching a half billion dollars in net worth could be a challenge. And it's not clear how the league calculates a group's net worth and how minority team ownership would affect it.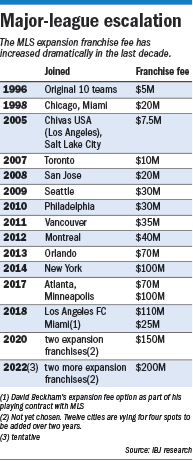 Ozdemir isn't concerned about meeting the league's wealth requirements—for now.
"This group meets and exceeds that [net worth] minimum significantly," he said.
Elwood, who said his company has "just south of $1 billion in annual revenue," is also confident in the group's financial wherewithal. "It's a great group of financial investors, and there will be more people joining," he said. Raising $320 million "is a goal we can get to."
Ozdemir said he's talking to other potential investors because various people have expressed interest in owning a piece of the team. But he emphasized that his group doesn't need any more financial muscle to bring his dream to fruition.
"We don't have to have more investors," he said. "Our goal is to add good, strong community leaders. We will only add people with good business acumen who are engaged in the community."
MLS filling fast
The third consideration squeezing Ozdemir's timeline is the league's small size.
"MLS officials have been very careful to keep the size of the league under control," said David Morton, a local sports marketer who has done work for the MLS. "Maybe they grow to 30 or possibly 32 teams, but I don't see them growing beyond that. They could stand pat at 28 for quite a while."
That scarcity, Morton said, is bound to drive up franchise fees.
The fourth and final factor might be the most pressing. While Ozdemir praises IUPUI for its agreement to let the Eleven rent the Michael A. Carroll Track and Soccer stadium on a year-to-year basis, he said the team can't be viable there.
He declined to divulge details. But he said he's lost money in each of the three years the team has played at IUPUI, which includes the first year when the team sold out every available seat and led the NASL in attendance at 10,465 per game. He said the 20 percent decline over the subsequent two years is due largely to the venue's shortcomings. In total, he said, he's lost "millions."
The stadium doesn't have a kitchen or cooking facilities, so food—even simple things like hot dogs—must be prepared at an IUPUI kitchen and carted over. There are no permanent concession stands and little space for even makeshift merchandise sales areas. The stadium has no functioning bathrooms, so fans are forced to use porta-pottys, and there's no concourse, so when rain hits, there is no place for fans to take cover.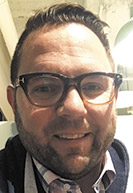 Mason
"The stadium has been evacuated due to lightning on multiple occasions and IUPUI even evacuated fans out of the nearest parking garage, so there is simply no place to go," said Joshua Mason, president of the Brickyard Battalion, a soccer support organization that has a huge block of seats behind the goal at Eleven games. "The hardcore soccer fans like me put up with it, but there's no doubt they're losing a lot of the more casual fans."
The lack of concourses and IUPUI's evacuation policy has killed walk-up ticket sales, Ozdemir said. Less than one-third of ticket revenue comes from those last-minute sales, he said.
The biggest problem with the current stadium is the track, Mohr said.
"One of the biggest attractions about soccer is that you're so close to the action," he said. "In a good venue, you're just so close it feels like you're in the middle of it. The track at IUPUI prevents fans from being that close. It's the No. 1 problem. IUPUI is a great short-term solution, but it's not the long-term answer."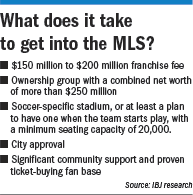 Stadium plan provided
Ozdemir doesn't yet have city or state backing for a new stadium—but he acknowledges he will need it to bring an MLS franchise to Indianapolis. He has identified a parcel west of Lucas Oil Stadium, but he declined to say whether he has a purchase agreement in place or to describe the status of any negotiations.
"The MLS asked for a stadium plan" when the team turned in its application on Jan. 31, Ozdemir said. "We provided that."
Those applications are not public record.
Ozdemir said he is seeking a 20,000-seat venue to meet the MLS' minimum for capacity and because of the city's midsize status. But he added that the stadium will be designed with expansion in mind and said he isn't fearful the Eleven would have difficulty filling it.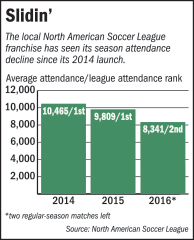 "If you look at what a team like Orlando City did … we feel we can draw 20,000 per game easily and probably more," Ozdemir said. Orlando City SC had average attendance of 4,743 in its last year as part of the United Soccer League, a minor-league feeder system. Last year, as an MLS franchise, it attracted an average of 31,324 to 17 home games.
Playing at Lucas Oil Stadium or Victory Field is out of the question. Two years ago, MLS began mandating that new teams not play in venues built for football and baseball and instead play in soccer-specific stadiums.
Despite three failed attempts to get a stadium-financing package from state lawmakers, Ozdemir remains optimistic something will get done.
Though he declined to reveal specifics, he said his group is prepared to make a significant investment in the stadium, which he wants to be owned by the city. But if that doesn't happen?
"We need to figure out a game plan to remain competitive—financially and on the field—for the long term," he said. "Because right now we don't have that."•
Please enable JavaScript to view this content.