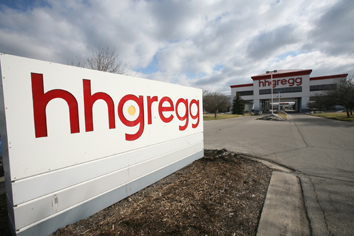 HHGregg Inc. faces the risk of delisting from the New York Stock Exchange because its stock price has fallen below $1.
The exchange notified HHGregg that it is not in compliance with its minimum stock-price requirements or its requirements that it its market capitalization be above $50 million.
The notification came on Friday. That's the same day the embattled electronics, appliance and furniture retailer announced that it is cutting about 100 jobs—including 70 at its East 96th Street headquarters—as part of a restructuring that will save $15 million a year.
HHGregg initiated the moves after reporting disappointing sales for the fiscal third quarter, which ended Dec. 31, of $453 million, down nearly 24 percent from the same quarter a year earlier.
The job cuts represent less than 3 percent of HHGregg's more than 5,000 employees. The company operates 220 stores in 19 states.
HHGregg said in a statement that it intends to submit a plan to the New York Stock Exchange within the next 45 days outlining the actions the company will take to comply with listing rules for market capitalization.
The exchange's listing operations committee then has up to 45 days to review the plan. If the committee accepts the plan, HHGregg will face review on a quarterly basis to ensure it is in compliance with listing rules. If the plan is not accepted, HHGregg will be delisted from the exchange.
"We will present a plan to the exchange. I fully expect to remain listed on the exchange," HHGregg CEO Robert Reisbeck told IBJ on Monday morning.
HHGregg's stock currently is trading well below $1, opening Monday morning trading priced at 52 cents. It hasn't fetched more than $1 since Jan. 9—the day HHGregg's stock tumbled 40 percent after the company announced preliminary third quarter results—and has yet to recover.
The listing rule in question requires that the stock's average share price over 30 days not fall below $1. Although shares were trading above $1 prior to Jan. 9, the average close over 30 days evidently fell below the $1 threshold.
Under the rules for maintaining a minimum stock price, HHGregg will have six months to raise its 30-day average to at least $1.
HHGregg isn't the only Indianapolis-based company to face delisting in recent months. In July, Emmis Communications Corp. avoided a delisting from the Nasdaq Stock Market, thanks to a reverse stock split the local media company undertook.
The split reduced the number of Emmis shares from more than 47 million to fewer than 12 million, but raised the price of each share from about 80 cents to more than $3.20.
Emmis shares opened Monday morning trading priced at $3.09 each.
Please enable JavaScript to view this content.