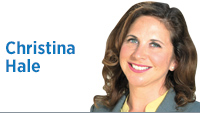 A politician walks into a tanning salon…
Sounds like a great setup for a joke.
But truly, back in 2014, I walked into a local tanning salon. The young women working there were talking about what a waste of time voting was, that nothing political mattered.
So of course, I had to speak up. I let them know that I was their representative and that they just might want to vote me out. They were shocked when I explained that I had voted to ban anyone age 16 and under from using commercial tanning beds.
They certainly knew about the law, as it drastically cut down on their business at the time. We had an interesting conversation about why I voted the way I did, and they didn't quite see my point of view regarding cancer prevention, although they laughed when I told them I would have written them a $1,000 check to keep me out of those aging machines back in the day when I was baking for prom. We became friends, but once they could, I am pretty sure they voted for my opponent.
For me, it was a win. Two more people voted, and I believe they began to appreciate that what goes on in the Statehouse does affect their lives.
So by now, it's clear that things are going to be very different. Fortunately, we don't have to try so hard these days to get people involved in their personal citizenship.
Regardless of what you think about the new Trump administration, you are likely to feel passionate about it. This isn't 2014 when so many people simply tuned out of politics. The constant news cycle that is our new reality might be resulting in something quite positive: People are getting motivated to step up and get involved.
Dale Cheney is one of those people who wants to ensure that everyone's rights are represented. She is an intellectual and funny 14-year-old Indiana girl who sums up what I am hearing all around our state.
Dale says she maintains her friendships with those who agree with her and with those who don't because she has respect for everybody. As she told me, "Everyone should have rights. If someone is being attacked, even if you don't agree with them, you should stand up for them because it is the right thing to do."
Those who follow politics will likely acknowledge that the same old people tend to show up to partisan political events. Not anymore.
Days after the election, two women in Zionsville got together for coffee. Jennifer Williams and Rabbi Sandy Sasso decided to host a public conversation to air some of the concerns they were feeling. They expected about a hundred women or so. Five hundred attended and another 500 were turned away for lack of space. They now have close to 4,500 followers on Facebook.
Like Dale, Jennifer and Sandy are concerned about people's rights, even those people they don't agree with presently. Their new, nonpartisan organization, Indiana Women 4 Change, is focused on civility and the promotion of the health, safety and respect of all Hoosiers.
They are not alone. People are gathering in bars like the Thunderbird, where owner Joshua Gonzales got his customers involved by hosting a night of nonpartisan, civic discussion benefiting the Julian Center.
Cool things are happening. Indiana might just recover from the nadir of 2014 when we had the worst voter turnout in the nation, and that is something to get excited about.•
__________
Hale is a former member of the Indiana House and ran for lieutenant governor in 2016 on the Democratic ticket. Send comments to [email protected]
Please enable JavaScript to view this content.