A decade ago, the forecast didn't look good for Delta Faucet Co.

Housing construction starts had crashed from a peak of 2.2 million in the early to mid-2000s to less than 500,000 in 2009—and with fewer homes being built, fewer kitchen and bathroom faucets were needed.

From 2007 to 2010, the Carmel-based manufacturer laid off about 1,000 employees. Its total employment dropped from nearly 2,500 to less than 1,400.

But Delta executives made the risky decision to keep spending on the company's three brands—Brizo, Delta and Peerless—and to keep investing in research and development.

It even debuted new technologies Touch2O and H2Okinetic—which allow faucets to be turned on and off with one touch—and launched 24-hour delivery service to showroom customers.

"The key was to stay invested in those areas that mattered and differentiated us," said Delta President Jai Shah, who became the company's leader in 2014. "I think that's what led to our ability to kind of bounce back."

And the well-known faucet maker, along with the housing industry, certainly has bounced back. By 2013, annual housing starts had grown to about 1 million and Delta committed to hiring 160 employees and spending $12 million to revamp its plant in Greensburg.



Today, Delta employs 2,100 people worldwide, including 450 in Carmel, where it recently opened a $15 million, 80,000-square-foot expansion of its headquarters. About 60 jobs have been added in Carmel in the past three years.

Shah expects the company to continue growing as it looks to expand its showroom business, increase its presence in multifamily housing and commercial construction, and ramp up e-commerce capabilities.

While there is some concern about another economic downturn, Shah said he isn't worried about the future—and analysts agree the industry should keep growing.

The faucet-manufacturing industry grew 2.5 percent annually from 2011 to 2016, according to Los Angeles-based IBISWorld, and should grow 2.7 percent annually over the next five years.

"The market is still on the rebound," IBISWorld analyst Rory Masterson said. "It should catch and surpass recession levels by 2021."

Delta's parent company, Michigan-based Masco Corp., represents about 22 percent of the industry and has contributed to the overall growth.

The plumbing-products division for Masco, which includes Delta, had sales of $2.63 billion in the first nine months of 2016, up from $2.49 billion in the same period a year earlier. Operating profit was $491 million, up from $386 million.

According to a report from Chicago-based investment research company Morningstar Inc., analysts are predicting "a new growth runway" for Masco over the next five years, largely due to the healthy housing outlook.

In 2016, 1.17 million housing starts were recorded, up from 1.11 million in 2015, according to the U.S. Department of Housing and Urban Development.



And Delta is set to benefit from increases in housing construction, as it is a popular brand with builders. The report from Morningstar cited a 2016 survey that pegged Delta as the third-most-used brand in new homes priced from $150,000 to $499,000.

"Delta is ideally placed—their product mix does really well with the builder," said John Strong, president of Economy Plumbing Supply Co. in Indianapolis.

Strong said that, before the recession, consumers bought expensive bath and kitchen furnishings. But the downturn changed that.

"People were proud to save money rather than proud to buy some $2,000 fancy faucet," Strong said.

He said one reason Delta weathered the storm is its broad pricing range throughout its three brands.

"They have such a wide selection of styles, whether it's traditional, transitional and modern products," Strong said. "They pretty much can fill most people's needs."

That includes the high end. Even during the recession, Shah said, Delta stayed committed to its luxury brand, Brizo, despite some competitors' decision to cut their high-end brands.

"Even though we were at the time losing money, we had a lot of faith in that brand and what it could do," Shah said. "And we stayed invested in the Brizo brand to the point that Brizo today has doubled in size in the last four years."

The company's research and development commitment also paid off during the recession, he said, especially the popular Touch2O technology.

In 2009, Delta began to prominently promote Touch2O, and sales skyrocketed.

"It's not all about retreating and cutting costs," Shah said. "It's about sizing your business to what your volume is, but stay focused and stay invested in those areas that are going to carry you in the long term."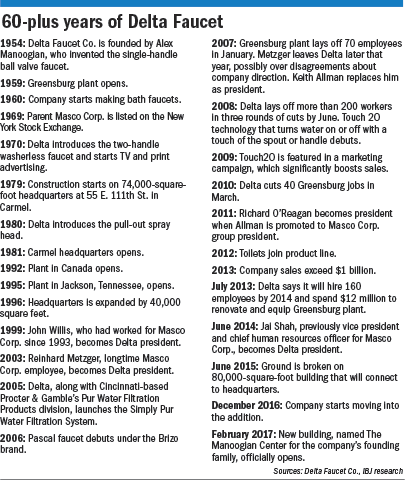 Now that the company has moved into its new digs, Shah plans to increase the usage of the showroom, which displays a variety of products and models.

The new showroom is about four times the size of the one in the older part of the headquarters and includes more opportunities to demonstrate working faucets and showerheads.

Shah said the company has hired additional employees to manage the groups brought in to review the products.

Since it plans to expand into the multifamily and commercial construction industries, more employees have been hired in those areas as well.

"That was an area we were historically under-penetrated in," Shah said.

Masterson, with IBISWorld, said commercial building helped the faucet industry throughout the recession as businesses less stung by the economic downturn still placed orders, and that sector is still providing a boost as companies have started expanding again.

"Businesses increasingly feel comfortable spending on additions for themselves," Masterson said.

Strong said the industry has also enjoyed an increase in multifamily housing projects, but he's concerned about whether that market is sustainable.

"If there's going to be a bubble, it's going to be in the apartment building industry," Strong said.

But he said it shouldn't take a significant toll on Delta because those projects don't typically produce high profit margins and the company is more heavily attached to single-family housing.

"It's certainly not going to push them into any great concerns," Strong said. "Everybody likes to get the [multifamily housing] job, but nobody really makes a whole lot of money off it."

Shah said Delta also has been growing its e-commerce business because—even though it hasn't historically been used much by faucet manufacturers—that is starting to change. In the last two years, Delta created a separate online business unit and hired staff for it.

The company's growth already has Shah worried the four-story Carmel headquarters expansion will soon be too small.

"To be honest with you, to a certain degree, what concerns me is, are we going to outgrow this building?" Shah said.

Lack of space is what prompted the recent addition. In 2014, about 70 employees were moved to an office on Meridian Street because of tight quarters, but Shah wanted to get everyone on the same campus again.

He said that, if another addition is needed, land is available. Masco Corp. owns about 5-1/2 acres immediately south of Delta's 12-acre property.

"We've always had—at Delta and at Masco—a long-term perspective on things," Shah said. "We're in it for the long haul."•