One of Indiana's most innovative companies in the past decade doesn't make surgical instruments or drugs or engines.
It makes water faucets and toilets.
Delta Faucet Co. has secured 589 patents in the past 20 years. That's more legally protected intellectual property than Eli Lilly and Co., Cummins Inc. or the Purdue Research Foundation.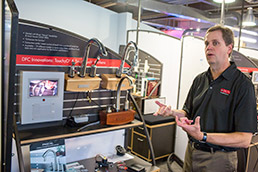 Robert Rodenbeck, Delta Faucet Co.'s director of research and development, explains how a set of Touch2O faucets work. The Carmel manufacturer's faucets, shower heads and toilets have yielded more patents than all but three Indiana companies. (IBJ photo/Aaron P. Bernstein)
Delta, a subsidiary of Taylor, Mich.-based Masco Corp., has received the fourth-most patents in the state since 1993, according to a patent database built by locally based Pellegrino & Associates.
Carmel-based Delta falls just below three biomedical companies: Warsaw Orthopedic Inc. in Warsaw, Roche Diagnostics Corp. in Indianapolis and Cook Medical Inc. in Bloomington.
The heads of research and development at Delta admitted that even they were surprised the 1,700-employee manufacturer ranked so high on a list dominated by life sciences businesses.
But they offered plenty of explanation for why their company has had to produce so much intellectual property.
Competition is tougher. The government has higher expectations for water quality and consumption. The company has entered new markets. And, frankly, there has been a lot of room for improvement for products that have seen little evolution in the past century.
"Plumbing's been around a long time," said Charlie McTargett, Delta's vice president of product development. "Thousands of years for the Romans, I guess. A basic faucet, as we know it, a hundred years. But we think there's just kind of unlimited ideas to make things better out there."
Delta began pumping out copious amounts of patents a few years before the Great Recession, as it incorporated electronic technologies into its existing fixtures.
For instance, its Touch2O technology, which activates faucets with the tap of a hand, incorporated close to 20 patents when it appeared in showrooms in 2009, said Robert Rodenbeck, Delta's director of R&D.
"You get the original one, and you try to make it as broad as you can," he said. "But then, as you extend it or proliferate it, you start to figure out different things you have to patent. It starts to have all these little spider webs that extend out further and further."
Technology edge a must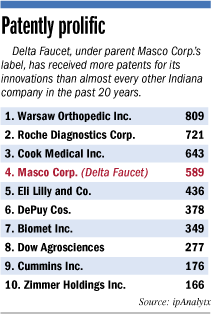 Competition is stiff when it comes to having the most advanced faucets or toilets.
McTargett and Rodenbeck would not discuss their R&D budget or even how many employees work in the department out of fear they might give competitors an advantage.
They did say, however, that publicly traded Masco has bet heavily on new products at Delta as the company struggled through the housing downturn. Masco also does not report its R&D expenses.
The growth clashed with what happened elsewhere at Delta as it repeatedly cut its factory work force. About 860 people worked at its Greensburg factory in 2007, before the head count plummeted to its current 140.
McTargett said his research and development department at the 360-employee Carmel headquarters grew "pretty heavily" during the recession.
The company announced in July it would hire another 160 people by 2014. Delta also has factories in Kentucky, Tennessee and China.
The $2.2 billion U.S. plumbing-fixture industry still faces headwinds, according to a report earlier this year by IBISWorld, a research firm based in Santa Monica, Calif.
Revenue has declined 0.9 percent annually since 2008. Things will get uglier as earnings dive 6 percent each year through 2018, the firm predicts.
Masco, which leads in market share with its three Delta brands—Delta, Peerless and Brizo—will need to keep up the R&D to hold its ground against a flood of cheap merchandise from China and Mexico, said IBIS analyst Hayden Shipp.
The other two major market-share holders, American Standard Brands and Kohler Co., are under the same pressure to innovate as Masco's Delta, Shipp said.
"I think right now, since we're starting to see home values go up … people are starting to invest in their homes again," he said. "There is demand for some of these luxury products that might not have existed four or five years ago."
Europe, meanwhile, also is stepping up production of high-end plumbing fixtures.
"We were being squeezed on both ends," Rodenbeck said. "It was kind of tough for a while."
Regulations play role
Legislation and government programs have further prodded patent-yielding development at Delta.
California served as a catalyst in 1986 when the state passed the Safe Drinking Water and Toxic Enforcement Act, which led to similar laws nationwide. On Delta's end, the company had to figure out how to keep water from absorbing lead and other toxic metals used in plumbing.
States also began passing laws in the 1990s that require plumbing to reduce the risk of scalding people in the shower.
More recently, government programs—such as the U.S. Environmental Protection Agency's WaterSense initiative—have pushed for low-flow fixtures. The program, much like Energy Star does for appliances, labels products with its logo if they meet certain efficiency standards.
"The need to constantly develop products and patent them comes from the continuing push to use less water," Matt Zielenski, an analyst for Cleveland-based The Freedonia Group, wrote in an email.
"Many building codes require low-flow shower heads and toilets, sinks that automatically shut off, etc. The standards get tighter as time goes on, especially in areas where water scarcity is an issue. So manufacturers have to keep finding ways to maximize air pressures and minimize water consumption. Technology is the main way to do it."
WaterSense doesn't have much application for sink faucets because they're usually on only momentarily, he said.
On the other hand, shower heads and toilets have proven tricky as companies tried to figure out how to reduce water consumption while maintaining water pressure. Shower streams were too weak and toilets required multiple flushes, he said.
Appearance first
The advanced plumbing fixtures come with a higher price tag.
Touch2O kitchen faucets start around $300 and run more than $600, according to Delta's website. More basic fixtures are half as much, if not less.
"Although Delta has been an innovative leader in the faucet industry, not a lot ofcustomers are impressed enough to buy them strictly based on that—at least not with our clients," said Shawnee Huie, a designer at Ohana Construction in Apple Valley, Minn.
"We primarily do medium to higher-end remodels … but our clients still purchase based on looks rather than the technology. In fact, we haven't had a single client install the hands-free faucets."

McTargett
John Strong, president of Economy Plumbing Supply Co. in Indianapolis, said he's noticed more interest in high-tech fixtures for the kitchen than in the bathroom.
"The design, the aesthetics is certainly paramount," Strong said. "They want it to fit in with the style they're trying to accomplish with the room. What will draw people to a more expensive faucet is the functionality of that faucet—can you turn it off and on with soapy hands?"
Toilets and beyond
Sometimes, Delta's R&D team has had to look more at reliability and ease of use, especially after introducing toilets in 2012.
"If you look at sanitary ware and toilets, people are scared of these things," Rodenbeck said. "Basically, people don't want to touch a toilet. So this one comes down to, they don't want to have to clean it, they don't want to have to touch it, it better dog-gone work."
So Delta designed a toilet that is easy to repair and easy to install. The company developed the SmartFit system to make the toilets easy to slide into walls and prevent leaks. A tool kit comes with the toilets so installers have all the supplies they need.
The toilet market is a big reason R&D has picked up in recent years, McTargett said.
Even with new product lines, Delta doesn't intend to divert its R&D focus. The fact is, the company can't ignore one line in favor of another, he said, because when people build or renovate homes, they replace all their fixtures at once. The developments all need to be there.
"Our customer who buys our kitchen product will not wait around while we're working on something else," he said. "What we have to do in each of these basic categories we're in is continue to innovate."•
Please enable JavaScript to view this content.