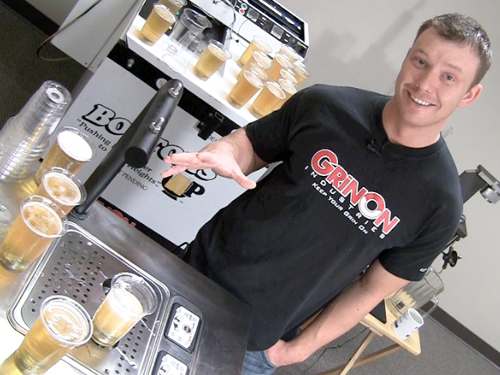 The Metropolitan Development Commission is slated to vote Wednesday to terminate a tax-abatement agreement with Indianapolis-based GrinOn Industries LLC, makers of the "Bottoms Up" beer-dispensing system, which fills cups from the bottom.
The company received an abatement agreement on personal property from the city in late 2011 as it moved its production to Indianapolis from the Seattle area, saying that it would invest $2.5 million in manufacturing and information technology equipment, and create 40 jobs with average wages of $17 per hour.
In April 2012, IBJ reported that the firm, which operates from a 26,000-square-foot warehouse in Park 100, had revenue of about $5 million, with 600 dispenser units in commercial use. It had 16 employees at the time, with a dozen of those transplants from Washington.
But a resolution from the MDC to terminate the abatement says GrinOn "has failed or will be unable to substantially comply with the commitments" of the original deal.
The agreement called for a three-year tax abatement that would save the company an estimated $49,569, but the company has realized only a fraction of that savings.
GrinOn satisfied terms of the deal from 2011 through 2014, according to the resolution, but became non-compliant in 2015 "due to the applicant's failure to achieve the personal property investment and new jobs commitments."
GrinOn will not have to repay tax savings of about $1,800, according to an agreement with the firm, "in consideration of the applicant's reasonable efforts to comply with the commitments."
In an email to IBJ, company founder and CEO Josh Springer said: "The short story is we had some growth hurdles to overcome (Putting a hole in the bottom of a cup is harder than it sounds.) That slowed growth. Now that they are resolved, look out world!"
The Bottoms Up system, which Springer came up with at a family dinner in 2008, features a specially designed cup that is placed on a nozzle to fill it from the bottom, eliminating the too-foamy head that slows traditional tap pours and ultimately can waste beer. A magnetic disc at the bottom of the cup instantly seals the nozzle hole by adhering to a metal ring surrounding it.
The system can fill as many as 62 pint cups in one minute, the company says.
Over the years, various sports teams, including the Indiana Pacers, sporting arenas and special events, along with restaurants and bars, have used the system.
Please enable JavaScript to view this content.