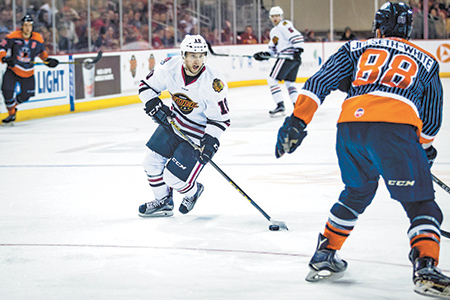 Father-and-son duo Jim and Sean Hallett launched a minor-league hockey team—the Indy Fuel—in 2013, but the enterprise has expanded far beyond just an ECHL franchise.
In year two of their foray, the duo bought the Forum at Fishers, renamed it the Fuel Tank at Fishers, and spent $400,000 renovating the ice rink. Since then, they've spent more than $5 million more on the facility.
In year three, the Halletts started a not-for-profit junior hockey league, which has grown to 540 players. Next year, they expect it to have near 800.
Within the next month, the Halletts plan to announce the construction of a new ice rink, likely on the south side, to increase opportunities for not only ice hockey, but also figure skating and other ice sports like curling and broom ball.
"You'll see an announcement soon," said Indy Fuel CEO Sean Hallett, 41.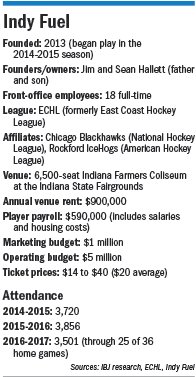 And that's not the last project on the Halletts' drawing board. Jim Hallett, 63, said at least one or two more ice rinks in this market are needed. He and his son are "in active discussions with two communities" about developing ice rinks there, he said.
"We're talking to more than just those two," Jim Hallett said. "We want five first-class rinks around this city."
The Halletts have gone all-in for a sport that has fallen through the ice multiple times here over the years.
"Yes, Indianapolis has had professional hockey since 1938. But until now, no one has really invested in the sport," said Jim Hallett, who grew up playing hockey in Canada and has lived in Indianapolis for more than two decades, since he came to the United States to oversee the North American operations of auto-auction powerhouse ADESA Corp.
"Investing in the sport is investing in youth hockey—for boys and girls," Hallett said. "That's how you build the fan base and ensure your future, and that's what we're doing."
The state recently spent more than $63 million to improve the fairground's coliseum—the Fuel's home arena—but the Halletts insisted on other improvements, including a $1 million electronic ribbon board, which they paid for themselves.
"That ribbon board completes the facility," Sean Hallett said. "We don't want to treat this like a minor-league sports team. We want everything that has to do with the entertainment experience to be first-class, major-league. We're trying to create a fan experience at the NHL level."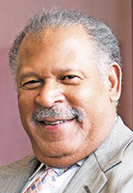 Thompson
Local sports marketer Milt Thompson, who has attended home games for several of the city's former pro hockey teams and the Fuel, said the Halletts' "commitment to entertainment shines through."
"The game presentation is livelier and splashier than what I've seen here before," Thompson said. "But it's not a circus sideshow. It's done with a professional touch."
Building a successful hockey operation is not an inexpensive endeavor. If the Halletts' efforts to build two new rinks are successful, they'll have invested as much as $50 million in their hockey operations, Jim Hallett said. An outside investor also has a small minority interest, he said.
In addition to those expenses, the Fuel has a $5 million annual budget, one of the highest in the ECHL (previously known as the East Coast Hockey League), league officials said. The team spends $1 million annually on marketing and advertising—including buying time to broadcast the games on television and radio. That's five to 10 times as much as most ECHL teams spend on marketing, Sean Hallett said.
And, Jim Hallett pointed out, he and his son have built their hockey conglomerate with no government funds. The state decided to renovate the coliseum—where IUPUI also plays basketball—before the Halletts leased it.
"I didn't get into this type of enterprise to take a government handout," Jim Hallett said. "I want to demonstrate to people that I'm doing this for all the right reasons. Besides, I don't like bureaucracy and politics."
He isn't overly concerned about getting his money back immediately, either.
"If we do this right, it will all pay for itself over the course of 25 years," he said.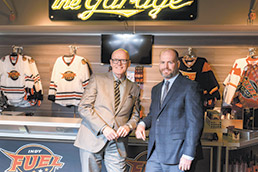 Co-owners Jim Hallett, left, and Sean Hallett have made the team profitable in only its third season. (IBJ photo/Eric Learned)
Grand plan
Growing youth hockey and building new ice rinks falls into Jim Hallett's plan "to do for Indianapolis what Wayne Gretzky did for Los Angeles" in the late 1980s and 1990s.
Gretzky, one of the greatest hockey players of all time, boosted the sport in L.A. when he joined the National Hockey League's L.A. Kings in 1988.
But, Jim Hallett added, the launch of the Fuel in the ECHL "was about much more than hockey."
"This is going to allow me to become really rooted in this community," said the 63-year-old who is now CEO of Carmel-based KAR Auction Services, ADESA's parent. "I wanted to bring this city that I love a sport that I love and provide people—and especially kids—with alternative sports venues here."
Indianapolis has had at least six professional hockey teams—including the Racers, Checkers and Ice—since the 1930s, with each eventually folding.
Hallett, who co-owned the Indianapolis Ice with local car dealer Gary Pedigo from 1999-2001, has been part of that history. This time, he insisted, is different.
"Being involved in the Ice was a good experience," Jim Hallett said. "I learned a lot."
Hallett and Pedigo eventually sold the Ice back to Chicago businessman Horn Chen, who folded the team in 2004. That gave rise to the Indiana Ice, a tier-one amateur junior team, which suspended operations in 2014.
The first thing Hallett decided he'd need to launch a new franchise is a long-term lease that gave the team an opportunity to turn a profit while building a loyal fan base.
"I didn't want to spend a lot of time and money building the brand and the fan base and then have the building owner come in and change the terms of the lease," Jim Hallett said.
The Halletts signed a 10-year deal—with three five-year options—to play in the newly renovated coliseum. The Halletts agreed to pay $550,000 annually in rent and another $350,000 each year for the rights to put a sponsor's name on the facility. The Fuel then sold those naming rights to Carmel-based Indiana Farmers Mutual Insurance Co. for $600,000 a year.
The lease and the naming-rights deal, Sean Hallett said, have been key to making the Fuel "cash-flow-positive since day one."
And the youth hockey initiative isn't a pure charity act.
The Fuel Tank at Fishers, which is managed by Jim's 37-year-old son, Chad, "has been profitable [despite steep investments in the facility] and has helped keep us above water," Jim Hallett said.
Bodies in seats
There are still challenges, starting with attendance. The Fuel, an affiliate of the Chicago Blackhawks, still hasn't managed to draw the crowds the minor-league Ice did. Six out of 10 years during the 1990s, the Ice—playing in the Central Hockey League—drew more than 5,000 fans per home game, with the high-water mark coming during the 1996-1997 season when the team averaged 5,722 fans.
The Fuel's best year was 2016, drawing an average of 3,856 for 36 home games. Through 25 games this year, the Fuel is averaging 3,501. The Halletts said the Indy Eleven's postseason run, along with the presidential election and the Chicago Cubs run to the World Series, all cut into early-season attendance. Whatever the cause, there's plenty of room to grow in the 6,500-seat coliseum.
"Ninety-five percent of people in central Indiana have heard of the Fuel," Sean Hallett said. "But the number who have gone to a game is much less than that. We just need to get more people to sample the product. If we do that, we know we can earn their loyalty."
While average attendance is down this year, season-ticket sales are up by a single-digit percentage and group ticket sales are up 15 percent over last year, Fuel officials said. The team's 1,334 season-ticket total in the top third of the 27-team ECHL, officials said. Total ticket revenue is up slightly, Sean Hallett said.
Sponsorship revenue increased in the Fuel's second and third seasons, the Halletts added.
"Starting a team from scratch is not an easy endeavor," Sean Hallett said. "From a business perspective, I think what we've been able to do so far has been a huge success."
Despite the team's spending, the Fuel are one of about nine ECHL teams churning out a profit, league officials said.
"The Indy Fuel are held in high regard by both the league and those involved in the league," said ECHL Commissioner Brian McKenna. "They continue to grow their fan base, TV audience and social media followers to continue to build the brand in the market, for the long term. We're pleased with their progress to date."
As a result of the team's long-term vision and investments, the ECHL last month awarded the Fuel the 2018 ECHL All-Star game.
"I have little doubt it will be a sellout," Sean Hallett said. "The response to the game coming here has been tremendous."
Jim Hallett is confident the Fuel will survive longer than any other hockey team in the city's history—for one primary reason: "Sean is a hell of a businessman," he said.
Sean Hallett became a Ford dealer at age 28 and within a decade was the largest Ford dealer in Canada, according to Ford Motor Co. officials. He sold his dealerships north of the border four years ago and moved to Indianapolis.
He never played hockey and was only a casual fan, but he didn't hesitate to take the reins of the Fuel.
"When I told the [ECHL] commissioner I had no experience in sports business and was not a hard-core hockey fan, he said, 'You'll probably do better than 90 percent of the owners,'" Sean Hallett said. "I simply run it from a business perspective."•
Please enable JavaScript to view this content.