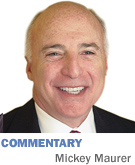 I am taking a hiatus from this column until sometime later this year in order to complete a book. Our editors will publish a favorite column once a month. In this one from August of 2015 I meant the headlines to be so farfetched as to be ridiculous—and funny. Sometimes fiction becomes reality. Please take a close look at the headline in bold.

Last week, we were criticized about a headline in IBJ that was thought to be salacious and sarcastic. We appreciate readers' feedback, take it seriously and will redouble our efforts to get them right.

In an effort to avoid errors during this transition period, I have prepared a few headlines I anticipate will be appropriate for stories we will be writing soon:

• Carmel adopts human rights ordinance; Pence declares Carmel a disaster area.

• Average weight of Hoosiers drops to 250 pounds.

• Republicans exhume Ronald Reagan, assure he will be better than the 23 party candidates running for president.

• Mitch Daniels asked to run for president, says he won't oppose Reagan.

• Planned Parenthood out of inventory, declares national conception day.

• Iran to Obama re: nuclear nonproliferation: "just kidding."

• Apple buys Greece in hostile takeover, releases new PSI-Pad.

• IU footballers defeat Michigan and Ohio State on same day (this story is slated for April 1).

• Saudi Arabia out of oil, sheik trades Bentley for camel.

• Trump says his net worth exceeds $10 billion, declares bankruptcy.

• Iran nukes Tel Aviv.

• Iran mysteriously disappears—Netanyahu not talking.

• Couple petitions court to reinstate heterosexual marriage.

• Barbara Bush discovers long-lost son, George Q. Bush; says he will run for president.

• Obamacare repealed, replaced with Clintoncare; all small businesses declare bankruptcy.

• Fox News creates camera with faster shutter speed, can now photograph Donald Trump with his mouth shut.

• Bill Clinton caught again with Monica Lewinsky, invokes "don't ask, don't tell" rule.

• Supreme Court rules punishment of criminals violates their civil rights.

• Average height of NBA players now 10 feet, six inches—all of which is tattooed.

• President Bernie Sanders sets IRS lowest tax rate at 75 percent.

• Indiana State Fair debuts deep fried pigs knuckle sandwich; 20 percent manage to keep it down.

• President Christie erects wall along border with Mexico—and around the George Washington Bridge

• Bear spotted in northern Indiana, registers to vote in Lake County.

• Trump picks Hoosier to run for vice president; Pence picked because of interview skills demonstrated on "This Week with George Stephanopolous."

• Ballard rejoins the Marines in Iraq, says war with City-County Council more dangerous.

• Coach Crean dismisses entire IU basketball team.

• Glenda Ritz withdraws from gubernatorial race, will try out for IU basketball team.

• Al-Qaida seizes Detroit. Promptly gives it back.

Headlines are an important part of good journalism, often setting the scene and facilitating the understanding of the story that follows. Headlines deliver that important first impression and set the tone of the story. We write hundreds of headlines every year at IBJ. We do get it wrong once in awhile. We appreciate your constructive criticism and will continue to strive for excellence at IBJ.•

__________

Maurer is a shareholder in IBJ Media Corp., which owns Indianapolis Business Journal. His column appears every other week. To comment on this column, send e-mail to mmaurer@ibj.com.