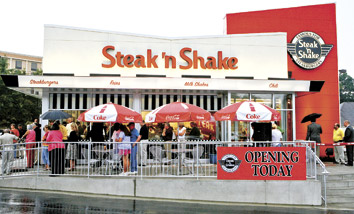 Last year was not kind to Steak n Shake.
The Indianapolis-based burger chain reported a decline in same-store sales for the first time since 2008, as it and its fast-casual brethren felt the pinch of increased competition and changing consumer tastes.
Same-store sales at Steak n Shake restaurants open at least a year dipped 0.4 percent in 2016 after increasing 3.6 percent the previous year. Same-store sales had been rising since 2008, when Sardar Biglari, CEO of Biglari Holdings Inc., the San Antonio, Texas-based parent of Steak n Shake, gained control of the then-sputtering chain.
The disappointing results seemed to surprise Biglari, who posted them in his annual letter to shareholders of Biglari Holdings released on Saturday.
"2016 represents a year in which overall sales and profits declined even though we had expected their advancement," he wrote. "Our performance was not the result of poor economic or weather conditions—two industry favorites and frequently cited alibis—but the result of our own lack of execution."
Biglari didn't get more specific. But the tepid results didn't end there. Annual revenue last year was relatively flat, at $804.4 million, while profit fell 12.7 percent, to $34.7 million.
In addition, the number of customers visiting Steak n Shake locations decreased 1.2 percent, to 116 million.
On the bright side, Steak n Shake continued to add franchised outposts, in what Biglari described as a "noncapital-intensive strategy that generates high-return, annuity-like cash flows."
Steak n Shake added 29 franchised stores in 2016, bringing the total to 173, with more expected this year. Overall, the chain has 590 locations, 417 of which are company-owned.
"We are guided by a straightforward credo," Biglari says. "The more relevant we are to customers, the less relevant the competition becomes."
This year's letter to shareholders, which runs 10 pages, covers the landscape of the company's holdings—which include Steak n Shake, the steak-restaurant franchisor Western Sizzlin, an insurance company, the men's magazine Maxim, and a big stake in Cracker Barrel.
Please enable JavaScript to view this content.