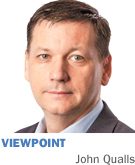 Starting and growing a business is a risky proposition. But our economy relies on entrepreneurs willing to take that risk and build companies that will employ dozens—if not hundreds—of people. All new businesses need capital to hire those employees and to pay for space, equipment and other necessities.

Often, business owners rely on loans to accomplish their goals, whether it is to open a new location or expand product offerings. Unfortunately, regulations passed following the recession create unnecessary barriers for the financial institutions, like regional banks, that facilitate this kind of critical lending.

In response to the financial crisis of 2008, Congress aimed to hold accountable the Wall Street giants involved in the crash. The Dodd-Frank Wall Street Reform Act, signed by President Obama in 2010, placed new restrictions and regulations on hundreds of financial institutions across the country. This caused further harm to small lenders because Dodd-Frank treats all banks with more than $50 billion in assets in the same way. Suddenly, regionals like Fifth Third, which have branches here in Indiana and focus mostly on consumer and commercial lending, face the same red tape as Goldman Sachs and Morgan Stanley, banks with distinct business profiles that involve risky trading activity with enormous sums of money. Regional banks and Wall Street banks operate in different sectors of the economy and with a different clientele.

These poorly targeted regulations have led to a slowdown in lending to small businesses during a time we should be focused on pro-growth policies. Money, time and human resources have been diverted away from lending and toward compliance with Dodd-Frank, threatening to slow much-needed economic growth. The result? A majority of startups are having trouble fulfilling their funding needs. Less capital is available to the small-business owners and startup firms that need it most.

Financial experts and politicians from both parties know the recession wasn't caused by small and medium-size banks, but those banks bear the brunt of heavy federal regulation.

I know how difficult it can be to find money to cultivate a business. At Eleven Fifty Academy, a not-for-profit coding academy closing the country's skills gap for adults looking to transition into tech careers, my team and I rely on grants, donations and loans to grow. More important, we count on young and growing tech companies to hire our graduates. Hiring a new employee or two is a massive investment for a startup. Restricting or overregulating their access to capital does not align with our state's entrepreneurial agenda.

I believe it is incumbent upon Indiana's congressional delegation to advocate for small businesses and the free flow of capital. Dodd-Frank regulations should be tailored based on a bank's business model—and the true risk they provide to the financial system—to protect the American taxpayer without hindering the growth of our local economy. This is an issue where members of both parties ought to find common ground. Surely nothing is more important to the long-term health of Indiana's economy than the success of small business.

Both lenders and business owners need one another to facilitate success. Our economy is built upon the mutually beneficial relationship between business and finance. Hoosier entrepreneurs have shown themselves to be innovative and hard-working, but all companies need capital to grow. It's time to move away from one-size-fits-all regulations to ones that are more in line with a pro-growth agenda needed in our economy.•

__________

John Qualls is the president of Eleven Fifty Coding Academy and a former tech executive.