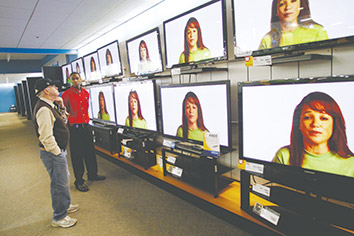 Indianapolis-based HHGregg Inc. said Tuesday that it has filed for Chapter 11 bankruptcy and reached an agreement to sell the business to an undisclosed party.
It was not immediately clear why the buyer's identity is being withheld. In a press release, HHGregg said only that it "has signed a term sheet with an anonymous party to purchase the assets of the company." The company did not disclose terms.
"We've given it a valiant effort over the past 12 months," CEO Bob Riesbeck said in the press release. "We have conducted an extensive review of alternatives and believe pursuing a restructuring through Chapter 11 is the best path forward to ensure HHGregg's long-term success."
HHGregg, an appliance and electronics retailer founded in 1955 by the Throgmartin family, lost its way after going public in 2007 and launching an aggressive push to go national. The expansion coincided with price deflation and increased competition in consumer electronics, which used to generate the majority of its sales.
Riesbeck said HHGregg under new ownership is "fully committed" to continuing to operate the 132 stores that will remain after the company completes the closings announced last week of 88 stores and three distribution centers.
The Chapter 11 filing, made late Monday in U.S. Bankruptcy Court in Indianapolis, estimates the company's assets and liabilities at between $100 million and $500 million. The company will provide more detailed information on assets and debts in the next two weeks.
Unlike many companies filing for Chapter 11, HHGregg has a relatively light debt load, just $30 million as of Dec. 31. But it is saddled with $190 million in lease obligations on the stores and distribution centers slated for closure. Retailers that file Chapter 11 typically get off the hook for unwanted leases as part of their restructuring.
With a buyer already lined up, HHGregg expects "a quick and smooth process through Chapter 11 with emergence in approximately 60 days," the company said in its press release.
HHGregg said it has obtained $80 million in financing from Wells Fargo Bank and GACP Finance Co. to help it through the restructuring. The company said it believes that money combined with an investment from the acquiring party will give it sufficient liquidity to operate its stores normally with minimum disruption.
HHGregg's legal counsel in the bankruptcy is Indianapolis-based Ice Miller LLP and Philadelphia-based Morgan Lewis and Bockius LLP
The company has reported 13 consecutive quarters of losses—a slide that decimated its stock price. Shares closed Monday at 23 cents. The company went public at $13 and traded above $30 in 2010.
Please enable JavaScript to view this content.