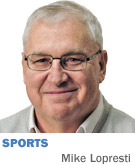 Here comes the NCAA Tournament. Indianapolis, you're on. Again.

The host with the most has put together quite a dossier in March, and early April. This is where Mike Krzyzewski comes to win national championships (three of his five), and perfect records come to die (Good morning, Kentucky and UNLV).

This is where Dean Smith coached his last game, and the Big Ten won its last national championship—let's hear it for Michigan State, circa 2000—and Purdue played in its last Final Four, 37 long years ago. This city saw one of the tournament's greatest first-round upsets, quicker than you can say, "Princeton backdoors UCLA." And one of the tournament's most horrific injuries, as Louisville teammates wept at the sight of Kevin Ware's shattered leg.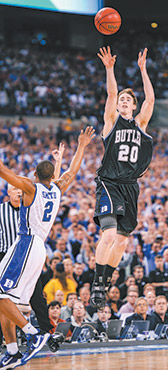 Butler's 2010 Cinderella story ended with Gordon Hayward's half-court miracle that wasn't, leaving the Bulldogs a 61-59 runner-up to champion Duke. (AP photo)
They have played tournament games at Lucas Oil Stadium and the RCA Dome. Market Square Arena and Hinkle Fieldhouse, way back when. But never Bankers Life Fieldhouse—on the men's side, anyway—until this St. Patrick's Day.

To mark the occasion, here is the Elite Eight. No, not that one. Eight days in Indianapolis that enriched the legacy of the NCAA Tournament with surprise, or drama, or shock.

No. 8. March 11, 1978

Marquette was defending national champion. Miami was a plucky upstart from Oxford, Ohio. When the underdog Redskins trailed 68-58 with 3:38 left, the show seemed over, but then Marquette's Jerome Whitehead nailed Miami's John Shoemaker with an elbow. Ejection. Flagrant foul. Redskins rally to win 84-81 in overtime.

Both sides agreed later that Whitehead's elbow was inadvertent, which didn't do much for Marquette's mood. "It's like being charged with burglary, when you haven't robbed anybody," Whitehead said.

No. 7. March 31, 1997

Arizona finished its ride down Blueblood Lane, beating Kentucky 84-79 in overtime, after getting past North Carolina and Kansas. The Wildcats had finished fifth in their own conference but became the first team ever to beat three No. 1 seeds on the way to the national championship. They remain, two decades later, the last champion from the West.

No. 6. March 31, 2013

There were under seven minutes left in the first half of the regional final between Duke and Louisville, as the Cardinals' Kevin Ware leaped in the air to try to block a Blue Devil shot. When he landed on the Lucas Oil Stadium court, his right leg just seemed to explode. A nation of TV viewers gasped at the replays, Twitter went ballistic, while Ware's teammates were horrified. "I literally almost threw up," Coach Rick Pitino said afterward.

The Cardinals won 85-63, driven by words from Ware himself. "Remember the bone is 6 inches out of his leg, and all he's yelling is, 'Win the game, win the game,'" Pitino said. "I've never seen anything like that."

No. 5. April 4, 2015

The 1976 Indiana Hoosiers were on red alert. They had stood as the last unbeaten national champions for 39 years, but here was Kentucky in the Final Four, two games away at 38-0.

Never mind. Wisconsin went scoreless for six minutes to fall behind 60-56, then owned crunch time and won 71-64, on Badgers' star Frank Kaminsky's 22nd birthday, no less. Instead of a cake, he had 20 points and 11 rebounds.

No. 4. March 14, 1996

UCLA and Princeton were separated by a continent on a map, and light years in basketball stature. One was the defending national champion, the other from the Ivy League. Ahead 41-34 with six minutes left, the Bruins seemed safe enough.

They never scored another point.

As the RCA Dome crowd fell in love with the underdog—UCLA alum Reggie Miller might have been a civic treasure as a Pacer, but was booed heavily when the scoreboard showed him courtside in his Bruins' cap—Princeton steadily crept closer. It came down to the last seconds, the score tied 41-41, the Tigers with the ball, and a backdoor cut that Princeton had run a million times before. On the million-and-first time, Gabe Lewullis was open for a layup. Sorry, Reggie: 43-41.

Vincennes native Mitch Henderson was a guard that night for Princeton, and 21 years later, is now coach for the Tigers. "I think it captured the magic of what the tournament can be," he said. "Two coastal teams in the middle of Indiana, and I think the whole place—with the exception of a couple of people, including Reggie Miller—were cheering for the Tigers."

No. 3. April 3, 2010

A Final Four in Indianapolis, with Butler? Hollywood stuff, but real life. "If I was not playing," Michigan State Coach Tom Izzo said, "I would be a Butler fan."

Unfortunately for him, his Spartans became the latest victim of the Butler Way, which relied on teamwork and precision but also—when needed—muscle and being nobody's cute little underdog. The Bulldogs went 11 minutes without a field goal and shot 30 percent, but survived 52-50 by pounding the boards and turning up the physical needle on defense. It came down to Gordon Hayward's refusing to give Draymond Green a good look at the basket on the Spartans' last shot. "I don't know if I got a piece of the ball," Hayward said. "Or maybe a piece of his arm."

Cuddly lads, weren't they? Butler was in the national championship game, six miles from campus. Hickory, meet the NCAA Tournament.

No. 2 March 30, 1991

UNLV was 34-0, had won 32 games by double-digits, and the year before had blown away Duke by 30 points in the national championship with basically the same lineup. What could be surer in Indianapolis this day, other than the sun setting in the west over Brownsburg?

Time to dust off the cliche, "That's why they play the game." At the end, UNLV's lack of familiarity with tight squeezes was plain to see, especially after floor leader Greg Anthony fouled out. Christian Laettner's free throws with 12.7 seconds left put the Blue Devils in front 79-77, and the Rebels absolutely butchered their last possession.

P.S. UNLV is one of six defending national champions to go bust the following year in Indianapolis.

And finally …

No. 1. April 5, 2010

It's simple. If Gordon Hayward's half-court shot had gone in to win the national championship for Butler, Indy would have witnessed the greatest ending in the history of the sport. Instead, Duke eked by 61-59 and the Bulldogs were left with the runner-up trophy—and universal admiration.

Hayward was asked to describe that last shot destined for replay immortality. The college basketball world awaited his words.

"It missed."

Welcome back to Indianapolis, March.•

__________

Lopresti is a lifelong resident of Richmond and a graduate of Ball State University. He was a columnist for USA Today and Gannett newspapers for 31 years; he covered 34 Final Fours, 30 Super Bowls, 32 World Series and 16 Olympics. His column appears weekly. He can be reached at mlopresti@ibj.com.