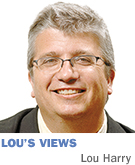 The biggest downside to the Eiteljorg Museum of American Indians and Western Art's latest exhibit, "Dogs: Faithful and True" (through Aug. 6), is that you can't bring your own dog to it.

Oh, I know it would be a disaster if such canine restrictions were lifted and pups were empowered to stroll through the museum's handsome galleries. But it's difficult to engage with the artifacts, photographs and other dog-centric artworks without wanting to reach down and pet a furry friend.

Even seeing some on video would have been nice.

The core exhibit explores the role of dogs as workers, heroes and companions in the American West. Famous and semi-famous pooches mentioned or seen include Balto (who, we learn here, should have shared more credit with Togo for delivering diphtheria antitoxin to Nome), and, closer to home, Bobbie the Wonder Dog, who was lost in Wolcott, Indiana, yet found his way back to Silverton, Oregon.

It's not all famous furry folks, though. Most of the canines shown are anonymous, whether hanging out for a Seminole family photograph in Miami, Florida, pulling a child's wagon, or teaming up to intimidate in Bob Kun's painting "Treed Mountain Lion."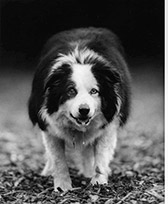 Michael Crowser's "Dog Run 4." (Photo/Image courtesy of Eiteljorg Museum of American Indians and Western Art)
The openness of the gallery space doesn't give the exhibition a clear through line, which makes it less coherent but not less interesting. Even without structural guidance, the tiny carved ivory figures from an unknown Inupiaq artist stand in stark contrast to the nightmarish Rick Bartlow's "Night Dog" pastel. Gilbert "Magu" Lujan's joyful buddy-buddy painting "Stylin' in Santa Fe" and the funk art of Roy De Forest help broaden the range of styles, while the straightforward "Cattle Dog: Mookie" reminds that a straight-on photograph of a handsome dog brings its own simple pleasures.

There are also a few interactive opportunities. Kids can pack a dog's saddlebags, and there's a dog-breed touchscreen program and a photo op with a dogsled.

Even more so than previous mainstream-appeal Eiteljorg shows such as "Guitars," though, your experience of "Dogs" will largely depend on which day you go. That's because the schedule is fairly packed with supplemental programming.

On April 8 and May 13, for instance, Smiling Dog Photography will offer a workshop on taking pictures of your pet, while on May 12, an artist will help you learn to paint an acrylic portrait of your pet. April 8 brings Iditarod dogsled musher Karen Land in for a talk. On May 13, you can adopt a pet from Indy Humane's Pet Adoption Wagon. May 19 is Dog Trivia Night.

Oh, and your dog won't be left out completely. Furry friends are invited to this year's Summer Under the Sails concert series behind the Eiteljorg along the canal. Those free events run 6-8 p.m. on Wednesdays in June and July.

The Eiteljorg isn't the only local institution thinking about four-legged sidekicks. On March 9, the Benjamin Harrison Presidential Site opened "Presidential Pets," looking at 200 years of history that includes such characters as Whiskers the goat (Benjamin Harrison's son's beast of choice) and Checkers the dog (Richard Nixon's pal, who never actually lived in the White House).•

__________

This column appears weekly. Send information on upcoming arts and entertainment events to lharry@ibj.com.