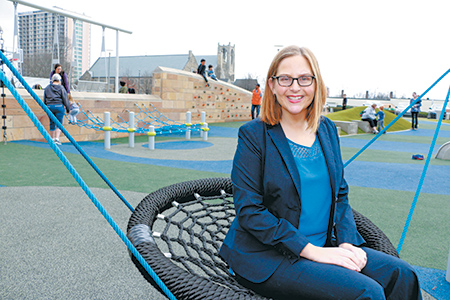 Indy Parks Director Linda Broadfoot believes in the power of the city's parks to act as neighborhood-improvement catalysts.
Broadfoot, surveying scattered groups of kids playing on pristine new equipment in the $5 million upgrade at Tarkington Park one recent afternoon, pondered the potential for community development efforts in the surrounding area at 38th and Illinois streets.
Broadfoot said she wants the city to think just as big for the rest of its more than 200 parks, trails, nature areas and other recreation assets, which comprise about 11,250 acres across the county.
Her Indy Parks team recently finalized a five-year master plan, which was adopted Feb. 1 by the Metropolitan Development Commission.
The plan is packed with what she calls "lofty"—yet attainable—goals to improve the city's parks, including strategies to increase residents' use of parks and programming, to shore up and increase revenue, and to build and update facilities.
Armed with a recently city-approved $5 million bond for parks improvement, Broadfoot said the agency is in a good position to make modest upgrades in existing parks, improve programming and eventually increase the city's relatively anemic per-person spending on parks.
"For us, it is an exciting road map," she said. "It's something we can share with folks who want to support us to show that we have put some thought into what the future of parks can look like."
IBJ recently interviewed Broadfoot about the master plan. This interview has been edited for length and clarity.
IBJ: How can the city capitalize on transformational developments like Tarkington Park and bring them into other areas of the city—such as the Riverside area—given the cost of such projects?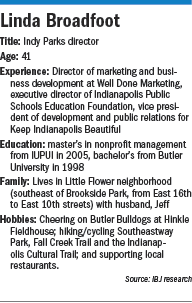 Broadfoot: Tarkington Park was fortunate enough to have a great funding quilt. There's a lot of public and private dollars here that helped us achieve beyond what we could achieve in our normal annual budget. [The city's Department of Public Works contributed $3 million; tax-increment-financing funds, $1 million; The Indianapolis Parks Foundation, $1 million.] That's definitely the model moving forward. That's not just Indianapolis. That's every urban parks department. The Riverside master plan is going to have a lot of terrific dreams for what that space can look like. That doesn't necessarily come with a checkbook. But it's a great story to tell to get people engaged and solicit potential support.
Sixty-one percent of residents say they have a need for small neighborhood parks, and 87 percent say they support improvement of existing small parks. Will any improvements come to them?
Small, neighborhood parks play a really important role in a wide variety of neighborhoods. We are exploring a lot of potential partnerships with organizations to help us beef up our work in a lot of these parks. With the $5 million bond for parks [included in the city's budget], we'll be able to do much more capital improvement. That more than doubles our capital budget in 2015.
The plan calls for the city to eventually spend $50 per resident per year on parks. A current analysis puts per-capita spending between $26 and $31 per resident. Comparatively, Kansas City, which has half Indianapolis' population, spends $115 per resident. Fort Wayne, which has about a quarter of the city's population, spends about $70 per resident. How do we get there?
That's going to have to include philanthropic and corporate engagement or creative models for certain types of properties. Everyone wants more parks, better parks, more parks in their neighborhood.
We rank pretty low, especially in terms of spending, compared to other urban parks. That has been a reality for many, many years, and it's an unfortunate reality for a lot of urban parks systems. We know there are superstar cities like Minneapolis that structure things differently than we do. 
What Indianapolis residents are getting for the dollars spent is incredibly high in value. Our staff is passionate, thrifty, inventive and they squeeze as much as they can [out of available dollars]. We're still figuring out what the long term can look like. I'm optimistic people are starting to see the value in what we do. There's nobody saying that parks are bad. I think the future is bright. We're fortunate to work in an administration that is thinking creatively, being bold.
The report digs into parks programming across the city, and finds that 85 percent of residents in a recent survey said they had not participated in recreation programs offered by the city within the last 12 months. Where should the city focus to improve its offerings to attract more people?
Adventure races, triathlons, those sorts of more extreme sports activities are incredibly popular, and I think we have a gap there that we could work on to fill. Some of the core activities and services aren't going to go away anytime soon. But there are other sorts of sports [to focus on]. Pickleball is incredibly popular right now, so you'll see us changing some tennis courts into Pickleball courts. We cannot have enough health and wellness activities, too. That's sort of core to who we are as a parks department.
What is being done to increase awareness of the parks? According to the master plan, 43 percent of residents don't use facilities or programs more because they don't know what is being offered.
What advertising dollars we do spend, we're spending smarter and spending in a more targeted way. We are making our presence known and there is greater awareness than there has been in the past. Our social media doesn't really cost anything and it is very active these days. Folks are anxious to connect with us, and I think our level of engagement with Indianapolis residents has shot up in the last year.
How can local businesses be more involved with supporting parks?
What feels like common sense—that parks are vital economic and community development tools—you'll see us begin to do a better job of making that case. The corporations are fast and furious to get engaged. We're a system of 210 parks. When you get someone from ABC Corp. out to a nearby park to meet the park manager, kids in the park, walk the park—that's where those connections are made.
What is a personal goal for Indy Parks that you have for 2017?
I would like to see Indy Parks be a leader in helping our residents be healthy and active. We serve everybody; everyone is welcome. There are things that are free [or] inexpensive all over the city. I want us to lead that charge.
And I think we can make some great strides in creating places that are beautiful and welcoming and provide a sense of respite in an urban environment.•
You can read the Indy Parks master plan at www.planindyparks.com.
Please enable JavaScript to view this content.