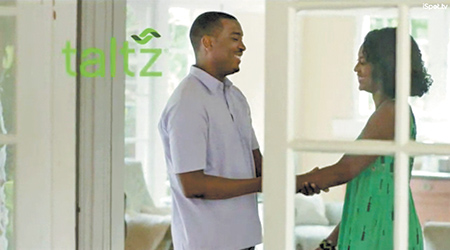 A man and a woman are barefoot on a couch, snuggling and smiling. In the background, a guitar starts strumming.
"When you're close to the people you love," the television announcer says, "does psoriasis ever get in the way of a touching moment?"
The minute-long commercial, featuring lots of bare shoulders, midriffs and swimsuits, promotes a new drug by Eli Lilly and Co. called Taltz that treats red, scaly patches of skin caused by moderate-to-severe plaque psoriasis.
It's a painful, itchy condition that afflicts more than 5 million Americans—who spend an estimated $5 billion a year on drugs and medical treatments to remedy their discomfort.
In the commercial, couples with smooth skin frolic in swimming pools and take dreamy walks in the woods.
"Now is your chance for completely clear skin," the announcer says.
The commercial, and several others like it, are part of one of the most closely watched drug campaigns in recent years. Taltz, which hit the market last year, is taking on an armful of older treatments, including creams, lotions, pills and injectables, such as Amgen's Enbrel and AbbVie's Humira.
Lilly said the drug helped six times as many patients completely clear up their skin irritations as Enbrel, according to data it collected in two large trials dating back to 2006.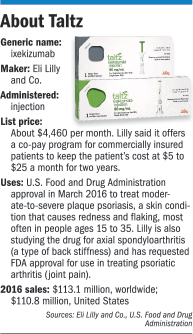 In the meantime, Lilly is also working aggressively to catch up to a competing drug called Cosentyx, which hit the market in 2015, beating Lilly to the punch by a year and already ringing up much higher sales.
For Lilly, the stakes are high. The company's traditional portfolio of once-brisk-selling products has slid into decline in recent years amid patent expirations. Sales of cancer drug Alimta tumbled 8 percent last year, while antidepressant Cymbalta fell 9 percent and antipsychotic Zyprexa plunged 23 percent.
Now, it's up to new products like Taltz to pick up the slack. Last year, Taltz rang up worldwide sales of $113 million, the bulk of it in the fourth quarter. The Indianapolis drugmaker has spent millions of dollars and nearly a decade to develop and launch the drug.
Some experts say Taltz could become a blockbuster—a product that generates more than $1 billion a year—within a decade. Jami Rubin, a drug analyst at Goldman Sachs, predicts that sales of Taltz could hit $2.5 billion a year by 2025.
Lilly officials say the drug is off to a good start.
"We are pleased with early uptake for Taltz," Dave Ricks, who took over as Lilly's CEO in January, recently told analysts.
But Lilly's efforts to turbocharge Taltz sales are just getting started. Last month, the company released 14 scientific papers on Taltz at the American Academy of Dermatology's annual meeting, touting the drug's benefits. One paper said Taltz outperformed a competing product, Johnson & Johnson's Stelara, in a head-to-head comparison after 24 weeks of treatment.
Lilly also is seeking approval to market the drug to treat joint pain and back stiffness, which could add billions of dollars more to the market opportunity.
The drug works by attacking psoriasis not just as a skin condition, but as a disorder of the body's immune system. Psoriasis is caused by certain chemicals when they falsely sense the body is being attacked.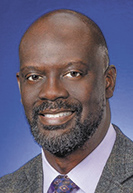 Osuntokun
"When there's a trigger, these chemicals become very excited," said Dr. Olawale Osuntokun, senior medical director for Lilly. "They're a bit more active than they ought to be. And this results in the skin lesions that you see in plaque psoriasis."
Taltz works by using an antibody to inhibit a protein called interleukin 17, thus interrupting the chemical inflammation, he said.
Lilly says that up to 90 percent of psoriasis patients using Taltz have a "significant improvement" in their plaque, and about 40 percent achieve completely clear skin.
Its long-term sales prospects might hinge, in part, on whether doctors gravitate toward Taltz or Cosentyx, which also binds to interleukin 17.
Switzerland-based Novartis International AG won FDA approval for Cosentyx in January 2015, giving Novartis bragging rights for first-in-class.
Both drugs are biologics—genetically engineered proteins derived from human genes—and work well, dermatologists say.
"Biologics in general have been highly effective and life-changing for many people with psoriasis," said Dr. Scott Fretzin, a dermatologist and partner at Dawes Fretzin Dermatology Group LLC in Indianapolis.
He and his partner, Dr. Ken Dawes, enrolled patients in clinical trials for Taltz. Fretzin said they were amazed by the results and that the drug provided the highest efficacy rate for treatment of psoriasis.
"In my clinical practice, it has been shown to be extremely effective and really does work in almost everybody," Fretzin said.
With its big lead, Cosentyx had sales last year of $1.1 billion, and analysts forecast they might reach $2.9 billion a year by 2020.
Some observers think Lilly has more than a fighting chance to catch up. In November, U.S. dermatologists surveyed by research firm Spherix Global Insights reported a "significant increase" in familiarity with and use of Taltz.
The research firm concluded that current users of Taltz expected to double their use in the next three months, while one-third of non-users intend to try Taltz.
"Though Cosentyx benefits from its first-to-market status and dermatologist comfort, Taltz appears to be making headway as a more efficacious option, with slightly more convenient dosing options and a high-quality patient support program," Spherix reported.
Novartis, of course, isn't backing down. This month, it released an analysis concluding that plaque-psoriasis patients treated with Cosentyx "rapidly regained clear or almost clear skin" following a short relapse caused by a treatment pause.
For patients, "completely clear skin" could be an expensive proposition. Lilly said the list price for Taltz is about $4,460 a month, or more than $53,000 a year. To make prices affordable, Lilly said, it has instituted a co-pay program for commercially insured patients that will cost $5 to $25 a month for the first two years.
Cosentyx is similarly priced. Its list price is $56,000 for an annual, 13-dose maintenance package. But Novartis said it offers financial assistance, and that patients without third-party insurance might qualify to receive the drug free through a company foundation.
Even so, plaque psoriasis is a chronic condition that needs regular attention, so treatments can last many years. For patients, that could mean years of expensive payments. For Lilly, it could mean a road to financial success.•
Please enable JavaScript to view this content.