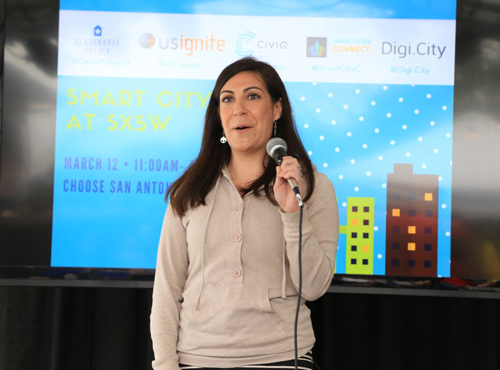 Several local companies and people presented at South by Southwest in Texas this week, sharing their Hoosier experiences and products to a variety of audiences at the world-renowned tech and arts confab.
Attorneys at Indianapolis-based law firm Barnes & Thornburg hosted a panel discussion—their third at the event in four years—and had Angie's List Senior Vice President of Technology Robin Fleming join them. Other tech companies that sent staff to Austin, Texas, included the health care software firm hc1.com, email marketing firm Delivra and production and design consultancy Catalyst.
Lauren Riga, a smart cities analyst and an associate faculty member at IUPUI, gave a speech about Indiana organizations and efforts focused on technology, including TechPoint, the Indiana IoT Lab-Fishers and more.
"I was there to discuss how IoT plays a role in smart cities, and Indiana is truly becoming a smart state through proactive policy, economic and technological initiatives," Riga said in an email. "Indiana is a state of the future and our story needs to be told."
This year's South by Southwest began March 9. It's an 11-day event with three main tracks—music, film and interactive. Officials have yet to compile statistics for this year, but more than 95,000 people registered for those events in 2016.
 

Robin Fleming
The Barnes and Thornburg discussion, which was on the interactive track, was titled: "#Law: Advanced (Yet Simple) Company Legal Tactics." It featured Indianapolis-based attorneys David Wong and Brian McGinnis chatting with Fleming about intellectual property, privacy, security and other legal topics related to her role.
"It was focused on how second-stage companies handle legal issues. So, we brought Robin along with us for a perspective both from a technology side and her experience as an executive," McGinnis said.
Fleming—who spent much of her early career in Dallas—had never been to South by Southwest. She said she enjoyed the panel discussion and various conversations she had.
"I mostly spent time networking … and there was really a big focus on women in technology," Fleming said. "I got a few tech questions, but most of the questions were around how to keep women in technology, how to get women in C-level positions, how to get women in board of director positions and how to start up women-in-tech groups."
 

Brian McGinnis
Matt Nagle, senior director of partnerships with hc1, was invited by Amazon Web Services to speak on a panel about cloud technology and public health to an audience of 40-plus mayors.
In an email, Nagle said he spoke about an hc1 solution that guides health care providers on "managing opioid addition, proactive engagement for mental health (avoiding unnecessary incarceration), and better tracking of health issues across the homeless population."
Delivra, a nearly 20-year-old firm, set up an exhibit-hall booth at South by Southwest for the first time, marketing director Joe Wanninger said.
"As you know, we've spent several years and millions of dollars to improve our platform, and going to events like SXSW gives us the opportunity to introduce Delivra to new companies outside our traditional market," Wanninger said. "We sent three reps there. They've met hundreds of marketers and the early feedback is that the event has been worthwhile."
 
Please enable JavaScript to view this content.