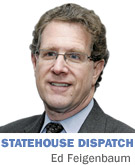 Rare is the General Assembly session devoid of an issue or action that comes out of legislative left field to, as one sage observer once put it, "burn up a lot of time and calories." 
Even rarer is the ability to predict in December or January what that item or items might be—and if it or they might delay lawmaking so as to substantively affect legislation or simply derail some measures or the entire session.
Sometimes these matters are partisan, philosophical, regional, or caucus-internal or -external, affecting personal and political relationships.
While you can't figure out what they might be early—with the exception, perhaps, of a right-to-work or prevailing-wage repeal push, or even a RFRA-related cultural item (which, to much surprise, quickly dissipated as a divisive topic last year)—you can often by NCAA basketball tournament time discern what might cause a disciplined legislative process to lose its procedural mojo. In a "long" or budget session such as 2017, that timing coincides with the effective beginning of the legislative end game.
That might not ring true this year, as four Hoosier teams played first-round games without something ominous overhanging the final month.
But just because nothing has yet emerged as a candidate to create chaos doesn't mean the session will stay sedate. There might still be a "Manchurian candidate" of sorts poised to send policymaking careening off the tracks in this epoch of conspiracy theories.
While most hope for a quiet ride to the finish, derailment of the entire train may be a last-ditch crash-and-burn strategy for anyone intent upon preventing one or more train cars from arriving at their intended destination: the governor's desk. Such a nuclear option can be deployed only in rare circumstances, given long-term fallout (see the House Democratic walkout over right-to-work as the proverbial Exhibit A).
While procedural matters that can threaten the process—a parliamentary maneuver or ruling on the floor in the heat of a long session day absent caucus deliberation—seem to occur without warning in the final days, you can make educated guesses about what looms with potential to throw a monkey wrench into an otherwise smoothly running session.
On the philosophical front, the controversial House abortion measure that required a redo of sorts in the House Public Policy Committee could be a catalyst for concern. However, lawmakers worked through an equally controversial abortion bill on the last 2016 session day, even as concerns about how it landed on the House floor the final night of an election-year session matched substantive concerns.
There's little on the purely partisan front parties might take to the mat. A redistricting bill, pushed by key House Republican leaders, has strong Democratic support but is disfavored by Senate Republicans.
Regional matters are, however, worth watching. 
While Indianapolis-centric measures are always the bane of out-state solons, not much this year should rile them. Unless House Bill 1002 (the road-funding legislation) spends too much on central Indiana mass transit or the debate over selection of Marion County judges turns crazy, there are no 2017 Indianapolis shiny objects.
Lake County issues could boil over. We've told you about fiscal and administrative needs of Gary schools, environmental-related housing and public health concerns of East Chicago residents, and the big-ticket South Shore line expansion and its controversial tax increment financing district (some might stretch to analogize it to placing a TIF around each station on the proposed palladium-to-stadium Red Line). There is also a locally red-hot partisan Lake-only precinct-consolidation measure pending in the House.
North-Lake needs are great, cash requests are in the nine figures, and not all the county's delegation is on line with everything. An all-Lake, all-of-a-sudden approach might prove controversial, setting up a split between The Region delegation and everyone else. 
Of course, if we're pressing to identify something divisive, it's probably not there to be found—but the price of legislating is eternal vigilance.•
__________
Feigenbaum publishes Indiana Legislative Insight. He can be reached at edf@ingrouponline.com.
Please enable JavaScript to view this content.