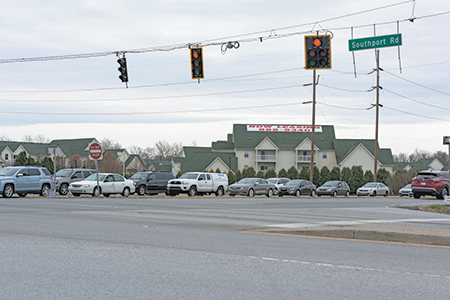 The Indiana Department of Transportation this month released plans detailing the location of interchanges along the final leg of Interstate 69—between Martinsville and Indianapolis—information that's expected to spark investment in the corridor.
Construction on the $1.5 billion, 26-mile stretch is still years away, and funding to pay for it hasn't yet been identified. But now that the interchanges have been picked, planners said, everyone from developers to prospective home buyers are more likely to open their wallets.
The state announced last year that the last link of I-69 will largely follow the path of the current State Road 37, which will be upgraded to interstate standards. The new plans show 10 interchanges along this stretch, which slices through Morgan, Johnson and Marion counties. INDOT will also build (or rebuild) 16 overpasses and underpasses, eliminate 14 traffic signals, and add 32 miles of access roads to reroute traffic.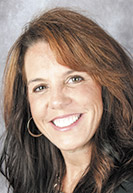 Kohl
"Those exits and interchanges are, for us, good news," said Martinsville Mayor Shannon Kohl. "We can really plan a lot better now that we know what's going on."
This segment will complete the route between Indianapolis and Evansville, where I-69 construction began in 2008. The section reaching Bloomington was finished in 2015, and the stretch between Bloomington and Martinsville, which also follows S.R. 37, is expected to wrap up next year.
While people have known for years that I-69 was likely to come through Martinsville, Kohl said, the lack of details cast a pall over development.
"No one was really wanting to invest here because they didn't know what the plan was going to be," she said.
Before becoming mayor last year, Kohl was a local real estate agent. As far back as 2003, she said, people considering a home purchase quizzed her about I-69, hesitant to buy a house that might end up in the highway's path.
"Now we can know what we want to do with certain areas of our city," she said.
Kohl said she thinks I-69 will strengthen Martinsville's connections to Indianapolis and Bloomington. With shorter commute times, Martinsville will become a more attractive bedroom community for Indianapolis, she predicted.
"Being between Bloomington and Indianapolis is a good thing that we never really have capitalized on," Kohl said.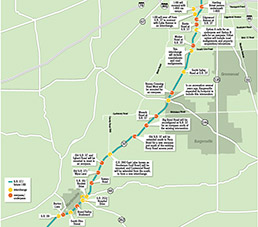 Click for a larger version of the map. (IBJ graphic)
Hot for development
Where Morgan County sees connectivity, Johnson County sees a development boom.
The interstate will clip through the northwestern corner of the county, in White River Township. That six-mile stretch, adjacent to both homes and farmland, will have two exits: one in Bargersville at State Road 144, and one at Smith Valley Road in unincorporated Johnson County.
"That section of the county's going to become a whole lot more intriguing and popular," said David Hittle, director of Johnson County's Planning Department.
Ever since INDOT announced it would build I-69 along S.R. 37, Hittle said, "our phone's been ringing off the hook."
Some callers ask about zoning and infrastructure because they want to build everything from large commercial projects to industrial facilities or housing. Others are individual land owners concerned about the impact to their homes.
"It's the little guy up to the big guy calling to ask, 'What's the future of this road?'"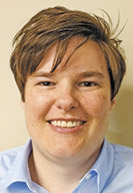 Young
Julie Young, Bargersville director of development, said she's seeing the same thing.
Several years ago, the town of Bargersville did a large-scale annexation that included the intersection of state roads 37 and 144. Now that the intersection is set to become an I-69 interchange, developers are salivating.
"In the three years that I've been here, there have been ongoing [development] discussions. In the last six to nine months, those discussions have been more active," Young said. "We've actually had applications to start moving processes forward."
Just this month, Bargersville's town council approved rezoning an 87-acre site near the future interchange. The rezoning, from agricultural to mixed-use commercial, was to accommodate a developer who wants to build a retail/restaurant project.
Bargersville and Johnson County are working together on land-use and transportation plans. As part of that process, the localities will look at infrastructure upgrades.
For instance, Hittle said, Johnson County will likely need to widen Smith Valley Road to handle traffic from I-69. Bargersville will examine whether S.R. 144 will need upgrades.
'Negative impacts'
Farther north, INDOT plans four I-69 exits in Marion County—at County Line Road, Southport Road, Epler Avenue and I-465.
The Southport Road interchange will pose challenges. INDOT hasn't decided which of two design options to use.
Under one option, the entire Aspen Lakes apartment complex on the southeast corner of Southport Road and S.R. 37 would be removed, and all residents would have to be relocated.
Under the other, most of the apartment complex would remain standing—but a commercial development on the northwest corner of the intersection, Southport Landing Shopping Center, would have to be leveled.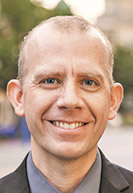 Beaubien
"You either take out a lot of commercial development, or you take out an apartment community. There are negative impacts," said Brad Beaubien, administrator for long-range planning at the Indianapolis Department of Metropolitan Development.
INDOT plans to build a short stretch of new road to connect I-69 to I-465. That stretch will veer off from the existing S.R. 37 north of Epler Avenue and will displace several buildings.
Like other cities and towns, Indianapolis is assessing how it should revise land-use and transportation plans to reflect the path of I-69 and the location of interchanges.
"We'll be out talking to the community, talking about what they see as impacts, what type of development they'd like to see around these interchanges," Beaubien said.
The document INDOT released is called a draft environmental impact statement. The department should have a final version early next year. Most land acquisition will begin after that, said INDOT spokesman Andrew Dietrick, and is expected to take two to three years.
Depending on which Southport Road interchange option INDOT chooses, the project will displace 28 to 336 apartment units; 78 to 94 businesses; and about 188 homes, duplex units and mobile homes.
But construction won't necessarily start as soon as property acquisition is complete.
"Without a funding source identified, we can't put any kind of schedule out there," Dietrick said.
Also unknown is whether the project would start in Martinsville and move north, or whether multiple sections would get underway simultaneously.
In the meantime, INDOT is giving residents several chances to get up to speed on the project.
Public meetings will be held April 6 at Perry Meridian High School in Indianapolis, 401 W. Meridian School Road; and April 10 at Martinsville High School, 1360 E. Gray St. Each meeting begins with an open house at 5:30 p.m., followed by a formal presentation at 6:30 p.m. Attendees will have the chance to make public comments.
The entire plan, which runs more than 1,500 pages, is at www.in.gov/indot/.•
Please enable JavaScript to view this content.