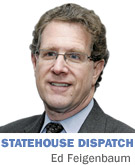 As the Senate Committee on Appropriations girds for a March 30 hearing on the biennial budget, key major assumptions about revenue parameters have changed since December.
In particular, a dismal forecast through the current fiscal year's end in June and gloomy projections for fiscal year 2018 (the first year of the coming biennium), seem to have improved. There might even be greater optimism about relatively healthy collections foreseen for FY 2019.
But will any theoretical improvement translate into something tangible? History suggests to expect only some tinkering at the margins—although some of those margins might be in the tens of millions of dollars, enough to fund some new initiatives, fully fund former pilot programs, or shore up existing line items.
Let's back up a bit for a quick budget-forecast process tutorial. 
Indiana has long been lauded for approaching its budget outline in a bipartisan manner, employing a national economic forecast consultant to derive an expected "lay of the land" for the coming biennium. Using these data points for the national and state economy, a bipartisan team of fiscal experts from legislative staff partner State Budget Agency number-crunchers and state university economists plug those numbers into a periodically tweaked model. This process serves up a bottom line on how much cash the state can expect to rake in across the biennium.
The numbers, updated each December headed into the legislative session, and again a few weeks before the session ends, is relied upon by both parties as the budget bottom line. When lawmakers say they don't deficit-spend, those are the revenue numbers used as reference points.
Given the uncertainty over the election results, early indications of slow revenue collections through the first half of FY 2017, the continuing impact of assorted tax cuts, and what felt like reluctance by Hoosiers to spend their hard-earned income, lawmakers expected the December 2016 forecast to be somber, but were jolted by a substantial ($301 million) projected shortfall for the remainder of the current fiscal year, which ends June 30. The news was better going forward, however, with expected 2.9 percent revenue growth in FY 2018 and a surprisingly strong 3.9 percent boost visualized for FY 2019. 
While the numbers became even more significant given some bicentennial project overspending by the prior administration and inability to work out a huge telecommunications lease deal to cover much of that outlay, belt-tightening ordered by Gov. Eric Holcomb, a Republican, and $2 billion in reserves for such contingencies made this largely irrelevant. 
The December forecast—still to be modified in early April—was more optimistic than the preceding two biennial prognostications, but don't expect solons to spend like reckless sailors. Since 2000, revenue exceeded forecast amounts in only six of those 16 years. The extent of the national forecast contractor's underestimation has widely outpaced the few years when income minimally topped expectations. Recessions weren't foreseen; their impacts were crushing. Projections outpaced revenue in the past two bienniums.
Senate fiscal leaders have recently deducted a percentage point or so from the bottom-line forecast, concerned that projections were overly optimistic. If former Senate Appropriations Chairman Bob Meeks, R-LaGrange, had a dollar for each time he boomed, "There is no money," he could have fully funded overestimates. 
Current Appropriations Chairman Luke Kenley, R-Noblesville, has been similarly skeptical, but inclined to give governors a modicum of deference on some of their pet projects. After taking a hit on the bicentennial bucks he only reluctantly approved, Kenley might be a harder sell this year—but governors and appropriators always seem to find loose change in state couch cushions to fill certain budget holes.
Expect an April forecast more positive about FY 2017, with additional improvement in the coming biennium. Don't anticipate greater general proclivity to spend, but you will see a few million here and a few million there bracing programs and helping fund small new efforts.•
__________
Feigenbaum publishes Indiana Legislative Insight. He can be reached at edf@ingrouponline.com.
 
Please enable JavaScript to view this content.