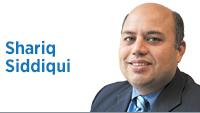 During the Muslim holy month of Ramadan (when Muslims fast from sunup to sundown) in 2004, I had the opportunity to meet a member of the MyManMitch gubernatorial campaign. Eric Holcomb's responsibility in the campaign was to broaden the tent. Regardless of whether or not you were a demographic that traditionally voted Republican, Holcomb was committed to meeting with you.

His boss, Mitch Daniels, was President Bush's Office of Management and Budget director on Sept. 11, 2001, and one of Daniels' first acts in that administration was to convene staff and have Muslim staff members talk about how those terrorist attacks were antithetical to the Islamic faith and Muslims. These two men have been important pillars of GOP leadership, and have been good friends of the Muslim community in Indiana.

Over the course of the eight years of Daniels' governorship, these two men sought to reach out to demographics across the state regardless of traditional voting affiliation. It isn't surprising that, in 2008, according to a Muslim Alliance of Indiana online poll, more than 78 percent of Muslim Hoosiers reported voting to re-elect Daniels, while more than 90 percent voted for Barack Obama for president. No other GOP candidate in Indiana came even close to Daniels' vote count among Muslim Hoosiers.

Daniels (with Holcomb's help) hosted eight annual governor's iftars during Ramadan. Iftars are the breaking of the daily fast in the evening during Ramadan. On his last governor's iftar, Daniels remarked, "When you do something for eight years, it isn't an event—it is a tradition."

Unfortunately, the governor's iftars and outreach died during Gov. Mike Pence's time in office. A politician seeking higher office couldn't be seen publicly breaking bread with Muslims when the GOP base had such negative views.

This was a stark difference to the approaches of at least two other politicians from our state. When I asked Mayor Bart Peterson (who was mayor on Sept. 11, 2001) and Daniels in separate smaller meetings why they sought to champion Muslim Hoosiers, a group that is so clearly misunderstood and negatively perceived, their responses (despite being at separate times and the men not knowing of the other's comments) were remarkably the same: "Leading is about doing what is right and hoping the politics will take care of itself."

Holcomb hosted Muslim Hoosiers at the Muslim Alliance of Indiana-organized Muslim Day at the Statehouse a few weeks ago. More than 60 Muslims from across the state visited the Statehouse and had an opportunity to meet with the various branches of Indiana government. I wasn't surprised by this, as Holcomb organized the first Muslim Day at the Statehouse in 2005 in partnership with the Muslim Alliance of Indiana.

It is my hope that the governor brings back a time when Muslim Hoosiers (and all Indiana citizens) feel welcome at the Statehouse: when all citizens feel they are an important part of our state's future success, when all citizens feel they have something positive to contribute, when citizens believe they will be judged by what they do and not by the actions of others who might look and sound similar.

I haven't had the opportunity to meet Holcomb since he ended his senatorial campaign and became lieutenant governor. I am happy to know the values he held so dear all those years will exemplify his time in the governor's mansion.

At a time of great darkness, I am glad to know my friend Eric Holcomb will serve as a beacon of hope of what is possible when values guide us.•

__________

Siddiqui is an attorney, has a doctorate from the Lilly Family School of Philanthropy at IU and leads the Association for Research on Nonprofit Organizations and Voluntary Action. Send comments to ibjedit@ibj.com.