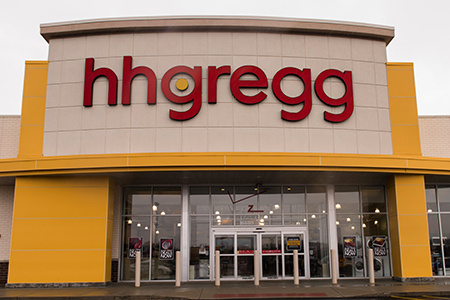 HHGregg Inc. informed its employees Friday afternoon that it has failed to find a buyer to rescue the beleaguered retail chain.
The company said it planned to begin a liquidation process on Saturday that will put the 62-year-old appliance and electronics retailer out of business in about eight weeks.
"Since filing for financial protection under Chapter 11 of the Bankruptcy code … we have continued to fight for the future of our company," CEO Bob Riesbeck said in an email to employees. "We've had discussions with more than 50 private equity firms, strategic buyers, and other investors. Unfortunately, we were not successful in our plan to secure a viable buyer of the business on a going-concern basis within the expedited timeline set by our creditors."
The retailer, which filed for Chapter 11 bankruptcy protection on March 6, said on March 31 that it would close the stores and liquidate their contents if it couldn't find a buyer for the business by Friday.
The retailer has negotiated a consulting agreement with liquidation firms Tiger Capital Group LLC and Great American Group LLC.
Under that agreement, the liquidators will sell merchandise at the remaining 132 stores plus its 14 distribution centers. The liquidators also will dispose of furnishings, fixtures and equipment at those locations.
In a previous round of closures announced March 2, HHGregg said it would shutter 88 of its 220 stores and three distribution centers.
Before store-closing-related job cuts, the company employed more than 5,000 workers.
HHGregg, founded by central Indiana's Throgmartin family, lost its way after going public in 2007 and launching an aggressive push to go national. The expansion coincided with price deflation and increased competition in consumer electronics, which used to generate most of its sales.
The company has reported 13 consecutive quarters of losses. 
In an interview with IBJ in early February, Riesbeck said many of the company's problems were of its own making—most notably its failure to change course when Amazon, falling prices and other forces upended consumer electronics.
"We didn't adapt to that change fast enough," said Riesbeck, a former executive at Marsh Supermarkets and other consumer businesses who joined HHGregg in September 2014 and landed the top job last year. "And now we are playing catchup."
But at the time he was optimistic the company could right itself. He said appliances remained a formidable business for HHGregg, with sales per store of $5 million, twice that of rivals Best Buy and Sears.
He hoped to build on that strength by continuing to roll out 4,500-square-foot, super-premium Fine Lines appliance stores—using existing space in HHGregg's 31,000-square-foot stores. He also had ambitious plans to upgrade the chain's assortment of furniture, a product line it introduced in 2013.
"I think there will be significant progress in the coming fiscal year," he said at the time. "We have a long runway ahead of us."
However, the company's continued losses narrowed its margin for error. HHGregg as of September 2015 had cash on hand of $35 million and no debt. As of the end of 2016, it had $2 million in cash and had borrowed $30 million of the $94 million available under a line of credit.
After the company reported horrid sales for the Christmas shopping season, it raced to cut costs, announcing in early February that it was laying off 70 headquarters employees and 30 workers elsewhere in the company in a bid to save $15 million a year.
The company looked high and low for a buyer with the capital and operational savvy to keep the business going. But that effort occurred during one of the weakest stretches for retailers in decades. Scores of chains are retrenching and are collectively shuttering thousands of locations.
In an email to IBJ Friday afternoon, Riesbeck wrote, "We did all we could do."
HHGregg's closing is a black eye for its largest shareholder, the Los Angeles-based private equity firm Freeman Spogli & Co., which owns 48 percent of the company.
Please enable JavaScript to view this content.